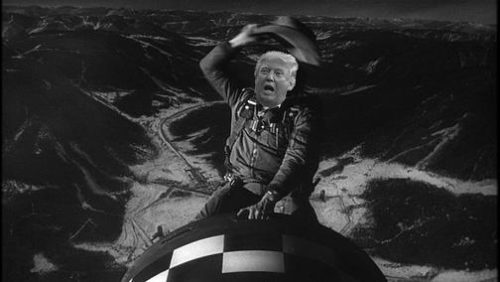 After Trump launched a series of airstrikes against Syria without the Constitutionally required authorization from Congress—just as he did a year ago after his "advisor" Ivanka told him to do so—he sent a self-congratulatory tweet to his adoring followers and declared, "Mission Accomplished."
A perfectly executed strike last night. Thank you to France and the United Kingdom for their wisdom and the power of their fine Military. Could not have had a better result. Mission Accomplished!

— Donald J. Trump (@realDonaldTrump) April 14, 2018
Despite the unwise reference to the phrase used by George W. Bush when he announced the end of combat operations in Iraq—we're still there—Trump's strike on Syria had little in common with Bush's war because Congress authorized military action against Iraq. In reality, Trump's actions have more in common with Obama's war in Libya in that Obama didn't have Congressional authority either.
Regardless of any perceived moral benefit from last week's actions, Trump has once again ignored the Constitution in the name of political opportunism—a fact pointed out by a few voices in Congress (Notice the one-two punch by Amash when he nails Paul Ryan along with Trump).
I haven't read France's or Britain's "Constitution," but I've read ours and no where in it is Presidential authority to strike Syria.

— Thomas Massie (@RepThomasMassie) April 14, 2018
These offensive strikes against Syria are unconstitutional, illegal, and reckless. The next speaker of the House must reclaim congressional war powers as prescribed in Article I of the Constitution. @SpeakerRyan has completely abdicated one of his most important responsibilities.

— Justin Amash (@justinamash) April 14, 2018
The Constitution makes offensive military action without congressional approval unconstitutional. The War Powers Resolution is unnecessary but consistent in that regard. Don't fall for the lie that the WPR grants authority for "limited" offensive action without approval. Thread: https://t.co/UOfe7JxiI3

— Justin Amash (@justinamash) April 14, 2018
Though motivated more by Trump's nationalist/populist ideals than they are his unconstitutional actions, his worshipers in the media are also speaking out about the airstrikes against Syria. FOX News Trump Pravda hosts Tucker Carlson and Laura Ingraham slammed the Syrian attacks as inconsistent with promises made during Trump's 2016 campaign.
Michael Savage tweeted that warmongers had hijacked the country.
We lost. War machine bombs syria. No evidence Assad did it. Sad warmongers hijacking our nation

— Michael Savage (@ASavageNation) April 14, 2018
And Trump sycophant Ann Coulter continued to regret her support of Trump by expressing her disagreement with his war against Syria in a series of retweets from conservatives and other voices like those below:
Nothing says "America First" like attacking without Congressional approval a far-away country that has historically not been regarded as a vital interest at the risk of severe escalation with Russia to punish a leader for maybe using chemical weapons in a jihadist-occupied town.

— Max Abrahms (@MaxAbrahms) April 13, 2018
Repeat of last year: Democratic senators raise procedural concerns and worry vaguely about a lack of "strategy," but don't actually object on the merits pic.twitter.com/MgL0tYMM6U

— Michael Tracey (@mtracey) April 14, 2018
Attacking a foreign nation that has not attacked or threatened America is globalist interventionism.

This is not 'America First'. This is not what Trump was elected for.https://t.co/fPdJlIQaYz

— Paul Joseph Watson (@PrisonPlanet) April 13, 2018
Proof of Trump's double-mindedness regarding Syria was also documented by DailyCaller.com in an article listing numerous past tweets by Trump opposing military action in Syria when Obama was president. Here are just a few:
We should stay the hell out of Syria, the "rebels" are just as bad as the current regime. WHAT WILL WE GET FOR OUR LIVES AND $ BILLIONS?ZERO

— Donald J. Trump (@realDonaldTrump) June 16, 2013
What will we get for bombing Syria besides more debt and a possible long term conflict? Obama needs Congressional approval.

— Donald J. Trump (@realDonaldTrump) August 29, 2013
"@mguarino64: @realDonaldTrump " How would you treat the Syria situation if president ?" I'd let them all fight with each other-focus on US!

— Donald J. Trump (@realDonaldTrump) September 1, 2013
What I am saying is stay out of Syria.

— Donald J. Trump (@realDonaldTrump) September 4, 2013
Trump's narcissism and Constitutional ignorance are not only a threat to liberty here at home, but they're now a threat to Americans and others around a destabilized world—a world that grows more destabilized and dangerous with every tweet he sends.
Originally posted on The Strident Conservative.
David Leach is the owner of The Strident Conservative. His politically incorrect and always "right" columns are featured on RedState.com, NOQReport.com, and TheResurgent.com.
His daily radio commentary is nationally syndicated with Salem Radio Network and can be heard on stations across America.
Follow the Strident Conservative on Twitter and Facebook.
Subscribe to receive podcasts of radio commentaries: iTunes | Stitcher | Tune In | RSS