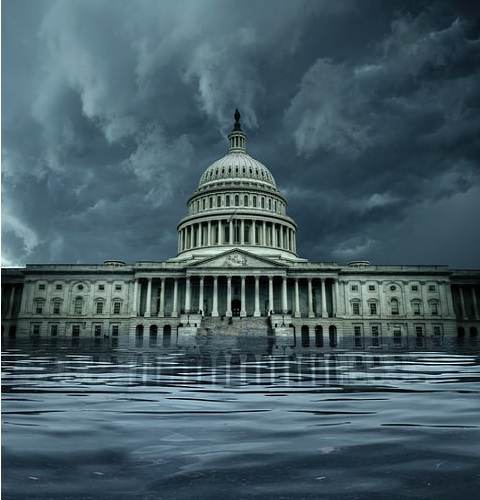 I've been taking a lot of flak lately for issuing a Blue Tsunami Warning for the upcoming elections in November; even being accused by one of my readers of hoping for a Democrat takeover of Congress.
As I reflected on this obviously insane conclusion, I was reminded of something a preacher once told me as a child, when I asked him, "If God controls everything, why does he allow bad people to do bad things?" He answered by telling me to imagine a boy riding his bike so fast that he would crash if he didn't slow down and to imagine warning the boy about his likely outcome.
The preacher then asked me, "When the boy crashes, did it happen because you warned him about it?"
The parallel between the words of that preacher and those of my reader is obvious; issuing a warning doesn't mean I am the cause of the Blue Tsunami or that I want it to happen.
Sadly, these lame accusations are really nothing more that a rehashed version of the #notHillary mantra we heard in 2016. In other words, these people believe that if you say something negative about Trump and the Trumplicans who have hijacked conservatism and the GOP, you obviously support Democrats and probably work for George Soros—yes, I've been accused of that too.
By the way, money's been a little tight at Strident Conservative HQ, so if anyone reading this has George's number, I'd appreciate it if you would send it my way.
Interestingly enough, calling the upcoming election a storm is an analogy recently adopted by Mitch McConnell. He's even gone so far as to rank it using storm terminology, calling it a "category 3, 4, or 5."
Facing this reality isn't likely to make any difference in November. As the leader of one of the least productive Senates in modern history, Mickey is putting all his eggs in the "but Gorsuch" basket, meaning that he is breaking out the election-year playbook and trying to convince conservatives that he is working for them by confirming so-called conservative judges.
Meanwhile, there are GOP races where candidates are wagering everything on Trumplicanism, despite the risk of embracing the unpopular president, such as the race between Rep. Kevin Cramer (R-ND) and Sen. Heidi Heitkamp (D-ND) in November. In a recent radio interview, Cramer showed how he is willing to bend over backwards to out-Trump Heitkamp—she claims to vote with Trump 55% of the time—by comparing a vote against Trump as the equivalent to committing adultery.
By the way, Cramer carries a pathetic 37% Liberty Score (F).
McConnell also admitted that while he hopes to maintain control of the Senate, GOP control of the House looks iffy, and it's no wonder when you look at how Paul Ryan gave America the biggest broken promise in history, the record number of GOP retirements, and the rising anti-Trump mood in parts of the country in districts that Trump won in 2016.
For example, in NY-11, we are being treated to a primary race between incumbent Rep. Dan Donovan (R-NY) and former Rep. Michael Grimm, the man Donovan replaced in a special election in 2015 after Grimm was sent to prison for tax fraud.
In what could be called another classic Trumplican cage match, these two are bending over backwards to out-Trump one another. With little to show for his time in Congress, Donovan—he carries a 28% Liberty Score (F)—plans to introduce a law requiring post offices to display portraits of Trump and Vice President Pence—a sort of Chapel of Trump. Meanwhile, Grimm—who once threatened to throw a reporter off a Capitol Hill balcony—is running 100% on the MAGA Train.
With a trail of broken promises behind them, the party formerly known as Republican has very little to show for having complete control of Washington since 2016, so they are forced to embrace the liberal policies of Donald Trump while simultaneously trying to convince America that they still represent conservative values. Therefore, the Blue Tsunami Warning will remain in effect . . . and that doesn't mean I want it to happen.
Originally posted on The Strident Conservative.
David Leach is the owner of The Strident Conservative. His politically incorrect and always "right" columns are featured on RedState.com, NOQReport.com, and TheResurgent.com.
His daily radio commentary is nationally syndicated with Salem Radio Network and can be heard on stations across America.
Follow the Strident Conservative on Twitter and Facebook.
Subscribe to receive podcasts of radio commentaries: iTunes | Stitcher | Tune In | RSS