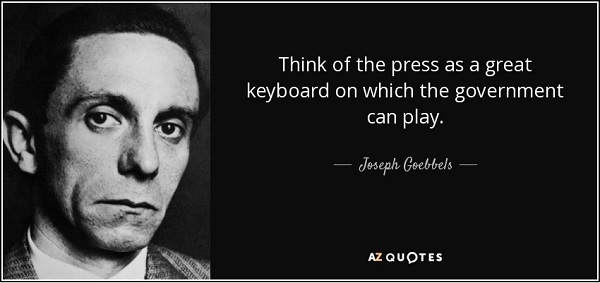 When Donald Trump tweeted a thank-you note yesterday to Rasmussen Reports for what he called their "honest polling" on his job approval, it wasn't all that surprising because the poll was favorable to the narcissist in chief. Compare that to last year when his approval numbers were historically low and Trump rejected polling, calling the results "fake news."
Thank you to Rasmussen for the honest polling. Just hit 50%, which is higher than Cheatin' Obama at the same time in his Administration.

— Donald J. Trump (@realDonaldTrump) April 3, 2018
Any negative polls are fake news, just like the CNN, ABC, NBC polls in the election. Sorry, people want border security and extreme vetting.

— Donald J. Trump (@realDonaldTrump) February 6, 2017
Of course, Trump's fake news spiel is something we've been hearing since his days as a candidate when he routinely attacked the First Amendment by threatening to expand libel laws—a promise he renewed a few months ago—to force unfavorable media into silence or else. He even referred to the media as "the enemy of the American people."
Here's the tweet Trump deleted—he's seriously calling the media "the enemy of the American people" pic.twitter.com/TxhnjuNL7q

— Kyle Griffin (@kylegriffin1) February 17, 2017
Now that he's in office, Trump has used the presidency to pick winners and losers in the press based on whether they feed his narcissistic need for attention and admiration.
FOX News has been a major benefactor of Trump's favorable treatment due to their positive coverage, and they have returned the favor by giving pro-Trump personalities their entire prime-time lineup. We know that Trump routinely gets his morning briefings from FOX & Friends, and we recently learned that Lou Dobbs is a regular participant in staff meetings.
True to his "bigly" nature, however, Trump has been working behind the scenes to create what could be called, for all practical purposes, a Pravda-inspired state-run media.
Back in October, Trump's FCC made some rule changes that paved the way for a merger between Sinclair and Tribune, which, when approved, will give Sinclair control of over 70 percent of US households. In addition, the FCC eliminated the requirement for TV stations to maintain local studios in the markets where they are licensed. Ultimately, it will be possible for over 70 percent of US households to have their news content centrally controlled in places like New York City and Washington DC.
So funny to watch Fake News Networks, among the most dishonest groups of people I have ever dealt with, criticize Sinclair Broadcasting for being biased. Sinclair is far superior to CNN and even more Fake NBC, which is a total joke.

— Donald J. Trump (@realDonaldTrump) April 2, 2018
When Trump ridiculed "Fake News Networks," he did so in defense of Sinclair Broadcasting—a company with close ties to Trump, Steve Bannon, and Breitbart—ties that have continued into his presidency.
Trump can call any media he wants "Fake News" and he can even blacklist certain media outlets, though, that's not very wise. But one thing he can't be allowed to do is abuse the office of the presidency to pick winners and losers in a free market.
And he absolutely, positively isn't allowed to void the First Amendment by creating a state-run media where the only news we are allowed to receive is the news approved by the Supreme Leader.
Originally posted on The Strident Conservative.
David Leach is the owner of The Strident Conservative. His politically incorrect and always "right" columns are featured on RedState.com, NOQReport.com, and TheResurgent.com.
His daily radio commentary is nationally syndicated with Salem Radio Network and can be heard on stations across America.
Follow the Strident Conservative on Twitter and Facebook.
Subscribe to receive podcasts of radio commentaries: iTunes | Stitcher | Tune In | RSS