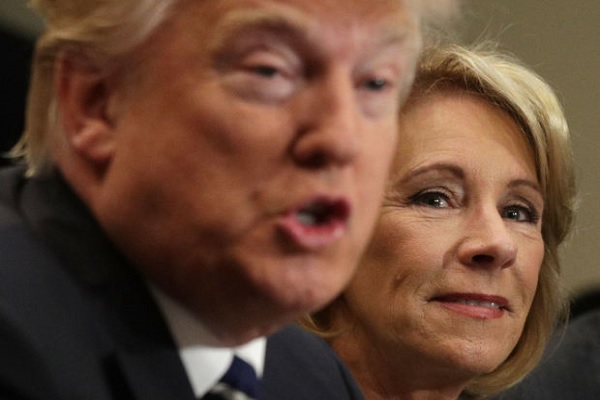 In a Washington Examiner opinion piece written by pro-Common Core Secretary of Education Betsy DeVos, she let America know that the disastrous Omnibus Trump signed into law will make schools safer, thanks to the anti-Second Amendment provisions included in the bankruptcy-inducing law.
According to DeVos, Congress included the Fix NICS Act and the STOP School Violence Act in the Omnibus at Trump's request as a display of his commitment to bring an end to what he claims is over 40 years of failure to confront school violence in America.
You know, hearing how willingly Trump disregards the Constitution reminds me of something George Bush once said during the economic meltdown near the end of his presidency when he told America that he had "abandoned free-market principles to save the free market." Trump is apparently willing to abandon Constitutional principles to save the Constitution, or at least his version of it.
However, when Bush said, "save the free market," he really meant save Republicans in Washington. Trump's motivation is exactly the same.
In her editorial, DeVos completely ignores Constitutional concerns as she sings the praises of Donald Trump and his so-called safety measures, but she's also making claims that are simply untrue.
For example, she brags about the STOP School Violence Act and how 700 million dollars in grants will be available for the Department of Education to pay for so-called mental health services. Yet, in an interview with Conservative Review, Rep. Thomas Massey (R-KY) points out how STOP SVA essentially nationalizes the defense of public schools and how a lot of the grant money will go to liberal gun-control groups and other local causes. The STOP SVA also specifically states that no money can be spent for gun safety training
Near the end of her diatribe, DeVos also reminds us that Trump is urging every state to pass laws creating Extreme Risk Protection Orders (ERPO). As I have written before, ERPO gives law enforcement the authority to seize guns from individuals without due process, by force if necessary, in violation of the Fifth and Fourteenth Amendments. Trump has openly stated that he favors seizing guns first without due process.
The Omnibus spending law is a disgrace because it fails to deliver on GOP promises, but it's also a disgrace because it fails to protect our Constitutional rights.
Originally posted on The Strident Conservative.
David Leach is the owner of The Strident Conservative. His politically incorrect and always "right" columns are featured on RedState.com, NOQReport.com, and TheResurgent.com.
His daily radio commentary is nationally syndicated with Salem Radio Network and can be heard on stations across America.
Follow the Strident Conservative on Twitter and Facebook.
Subscribe to receive podcasts of radio commentaries: iTunes | Stitcher | Tune In | RSS