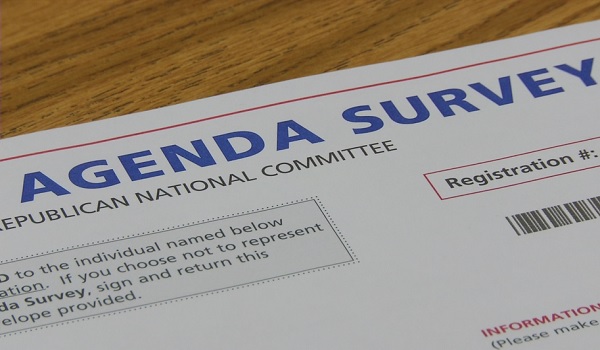 As Republicans face the daunting task of trying to avoid a political blood-bath in November, and as Donald Trump puts his 2020 re-election campaign in gear, the Republican National Committee sent out their official "Trump Agenda Survey." I know it's official because it said so in big, bold, red letters at the top.
It's also a recycled edition of the same survey the RNC sent out last year.
In a cover letter from RNC Chairwoman and niece of Utah carpetbagger Mitt Romney, Ronna McDaniel assured me that Trump has been working hard to "put our nation back on a winning path," but he needed my help to beat the "DC establishment" and the "unfair treatment" he is receiving from the "biased, lying media." According to McDaniel, turning our country around after 8 years of Obama isn't easy.
Is it just me, or did Obama use a similar excuse when he blamed his failures on George W. Bush?
McDaniel then assured me that her #1 priority as RNC Chair was ensuring that the Trump White House and the GOP majorities in the House and Senate kept in touch with people like me—a goal that apparently requires that I send the RNC a nice "skin in the game" donation along with my completed survey.
The survey itself was quite interesting when you consider that, according to Donald Trump, he has accomplished more than any president in history. Why was it interesting? Well . . . let's just say that if you liked the GOP's 2016 campaign rhetoric and lies, you'll love the issues addressed in the Trump agenda survey because THEY ARE EXACTLY THE SAME!
In the survey, McDaniel wants me to let her know if I want Trump and Republicans in Congress to fight for:
Reform the federal income tax system and reduce corporate tax rates
Build a border wall and strengthen border security to stop illegal immigration
Reverse President Obama's unconstitutional executive orders
Cut job-killing regulations to get the economy growing
Confirm federal judges who pledge to follow the original intent of the Constitution
Withhold federal funding from "Sanctuary cities" that refuse to cooperate with federal immigration authorities
Re-equip and rebuild our military
Repeal and replace Obamacare
Encourage domestic exploration and production of energy sources
Re-negotiate trade deals to put American jobs and interests first
Like I said before, it's recycled. Not a single, solitary new idea from the party that is supposedly winning so much that we can't take it anymore.
Interestingly enough, while the survey offered nothing but the same old recycled promises, some of the GOP's previously broken promises were noticeably missing, such as: defunding Planned Parenthood, ending DACA, and working to reduce the size and cost of government.
It wasn't her intention, but McDaniel's plea for feedback and funds confirms what conservatives have known all along—the GOP has been hijacked by Republicrats and Trumplicans who have no agenda other than their political self-preservation. And in classic "party over principle" fashion, the RNC is recycling the broken promises that got these lying liars elected in the first place.
Despite the P.S. McDaniel included at the end of her letter, Trump and the GOP are doing very little "to Make America Great Again!" They are, however, doing plenty to show why it's time for conservatives to sever ties with the GOP and build a new party.
Originally posted on The Strident Conservative.
David Leach is the owner of The Strident Conservative. His politically incorrect and always "right" columns are featured on RedState.com, NOQReport.com, and TheResurgent.com.
His daily radio commentary is nationally syndicated with Salem Radio Network and can be heard on stations across America.
Follow the Strident Conservative on Twitter and Facebook.
Subscribe to receive podcasts of radio commentaries: iTunes | Stitcher | Tune In | RSS