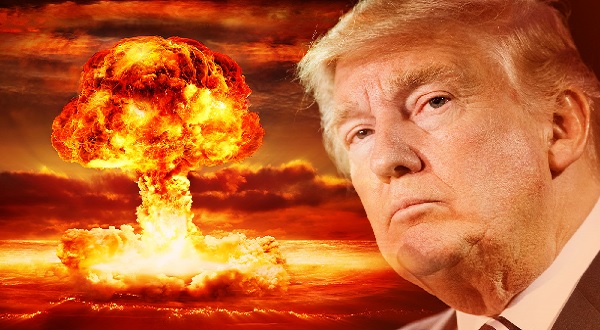 When Donald Trump issued his in-name-only tariffs on steel and aluminum imports, he immediately alienated many of America's strongest allies due to fears of a new trade war. Unfortunately, as we are seeing in Japan and South Korea, these fears are beginning to materialize.
As the South Korean government works on getting a get-out-of-tariff-jail-free card like Canada and Mexico received before the tariffs even took effect, steel producers in South Korea have decided to halt steel exports to the US, even though we are their third largest customer.
So, how is Trump responding?
In a speech to donors at a fundraiser in Missouri, Trump informed those in attendance that he is prepared to take action against South Korea over what he sees as an unfair trade relationship.
"We have a very big trade deficit with them, and we protect them … We lose money on trade, and we lose money on the military. We have right now 32,000 soldiers between North and South Korea. Let's see what happens."
Yep! Trump is threatening to essentially begin dismantling the US Pacific Command (est. Jan. 1941) if South Korea doesn't cough up his extortion money.
Besides the fact that Trump could be lying about a trade deficit—he admitted to the donors that he lied to Canadian Prime Minister Justin Trudeau in their trade discussions—he displayed an incredibly dangerous ignorance with his threat to withdraw US troops.
In remarks before the Senate Armed Services Committee, Adm. Harry Harris, commander of the US Pacific Command, addressed Trump's threat:
"I believe [regime leader Kim Jong Un] would do a victory dance. I think he'd be a happy man if we abdicated our alliance with South Korea and Japan."
Trump's threat is beyond stupid, but it follows a recent announcement that he will be meeting with Kim Jong Un to discuss ways to denuclearize North Korea. Seems to me that the man who brags about being a great dealmaker just surrendered one of his biggest bargaining chips.
What motivation will the North Korean dictator have to disarm if the US abandons the region? Wouldn't the absence of US troops be an open invitation for Kim Jong Un to invade South Korea? At the very least, it would make an already unstable situation much worse.
Abandoning our allies is familiar territory for The Donald. You may recall that Trump attempted to bully NATO for not paying their "fair share" during his first foreign trip as President less than a year ago.
Legislation has been recently introduced that will return the power to levy tariffs back to Congress. We should hope that it becomes law because not only could it stop a trade war, but in the age of Trump, it could stop a real war in places like Korea.
Originally posted on The Strident Conservative.
David Leach is the owner of The Strident Conservative. His politically incorrect and always "right" columns are featured on RedState.com, NOQReport.com, and TheResurgent.com.
His daily radio commentary is nationally syndicated with Salem Radio Network and can be heard on stations across America.
Follow the Strident Conservative on Twitter and Facebook.
Subscribe to receive podcasts of radio commentaries: iTunes | Stitcher | Tune In | RSS