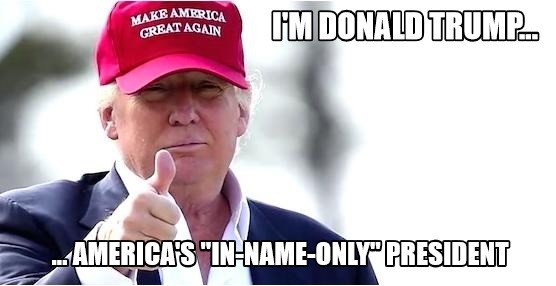 As a man who likes the title but not the responsibilities of the office, Donald Trump has proven himself to be America's President In-Name-Only. From the primaries to today the New York Liberal with an "R" after his name has demonstrated a lack of any core convictions as he makes policy decisions based on the need to feed his narcissistic personality.
One of the consequences of Trump's lack of character is the frequency in which he's forced to take action based on the rhetoric he continues to feed his dwindling base. Even though most of the promises he makes are nothing more than the politically convenient ramblings of a man who has no intention of keeping them—he bragged in a TV interview that he could change into whatever he needs to be—Trump's never-ending need for the praise and adulation of his followers has forced him to at least give the appearance that he will keep his word.
This has given birth to a host of in-name-only legislative efforts by Mr. Trump. Some of his biggest hits on the in-name-only charts deal with two of his major campaign promises: rescinding DACA and withdrawing the US from the Paris Climate Accord.
When Trump issued his executive order rescinding DACA, he immediately teamed up with Chuck Schumer and Nancy Pelosi to create an amnesty program for DREAMers. At the same time, he made a promise to reinstate DACA after six months if necessary.
Congress now has 6 months to legalize DACA (something the Obama Administration was unable to do). If they can't, I will revisit this issue!

— Donald J. Trump (@realDonaldTrump) September 6, 2017
In addition to statements from the White House that he never intended to rescind DACA, Trump has advocated amnesty for nearly two-million illegals (a number that was originally around 800,000). By the way, the deadline has come and gone, and DACA still exists.
When Trump announced in June that the US was withdrawing from the Paris Climate Accord, he immediately committed to re-entering it under better terms. In addition to statements from members of the White House team that Trump would work on getting the US back in, Trump stated in a January TV interview with Piers Morgan that the US is ready to re-enter the Paris deal.
"The president said he is open to finding those conditions where we can remain engaged with others on what we all agree is still a challenging issue." – Rex Tillerson on CBS's Face the Nation

"He left the door open to re-entering at some later time if there can be a better deal for the United States." H.R. McMaster on ABC's This Week
Our position on the Paris agreement has not changed. @POTUS has been clear, US withdrawing unless we get pro-America terms.

— Kayleigh McEnany (@PressSec) September 16, 2017
Following Trump's recent trade-war announcement that he was adding across-the-board tariffs to steel and aluminum imports, he proudly crowed that he was keeping a campaign promise on trade. Yet, when faced with an avalanche of blowback for the obviously anti-free-market policy, Trump turned this into another in-name-only moment.
On the day of the announcement, Trump immediately granted exclusions to the tariffs for Mexico and Canada—two of America's biggest providers of imported steel—despite repeated statements from the White House indicating otherwise.
"We have made clear these will be across-the-board tariffs with no exclusions. The problem with exclusions is that they are a slippery slope. Once you start, where do you stop?" — White House, March 2 (Wall Street Journal)

"There will be no country exclusions." — Pete Navarro, President Trump's radical trade adviser, March 4 (CNN's State of the Union)

"I have no reason to think he is going to change." — Wilbur Ross, President Trump's protectionist commerce secretary, March 4 (NBC's Meet the Press)
As a believer in free trade, I'm ecstatic that Trump at least partially broke his promise, but it serves as the latest evidence that Trump is nothing more than an in-name-only president willing to take make-believe actions to make it appear he's keeping his make-believe promises.
Originally posted on The Strident Conservative.
David Leach is the owner of The Strident Conservative. His politically incorrect and always "right" columns are featured on RedState.com, NOQReport.com, and TheResurgent.com.
His daily radio commentary is nationally syndicated with Salem Radio Network and can be heard on stations across America.
Follow the Strident Conservative on Twitter and Facebook.
Subscribe to receive podcasts of radio commentaries: iTunes | Stitcher | Tune In | RSS