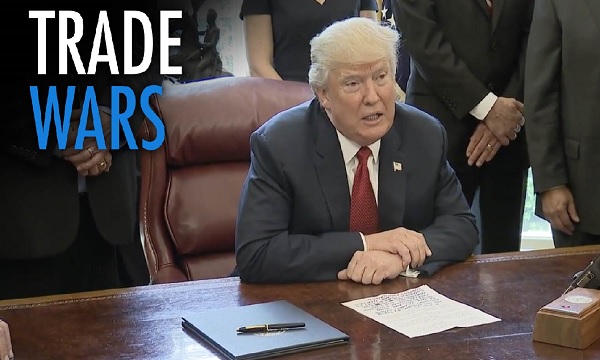 When Donald Trump announced YUGE tariffs on solar panels and residential washing machines earlier this year, he officially launched a new global trade war. Under the guise of "America First," Trump's used his Nationalist Populist philosophy to advance big government elitism that harkens back to Barack Obama's approach to economic policy where Washington picks the winners and losers.
Unfortunately, Trump was just getting started. Last week, the New York liberal with an "R" after his name announced the next round of attacks on the free market–an across-the-board tariff of 25 percent on steel and 10 percent on aluminum.
Facing a heavy backlash from conservatives like Sens. Ben Sasse and Mike Lee, Trump assured America that "trade wars are good, and easy to win." He went on to say that "the steel industry is in bad shape" even though over 70 percent of the steel used in America comes from America.
When a country (USA) is losing many billions of dollars on trade with virtually every country it does business with, trade wars are good, and easy to win. Example, when we are down $100 billion with a certain country and they get cute, don't trade anymore-we win big. It's easy!

— Donald J. Trump (@realDonaldTrump) March 2, 2018
Trump's billionaire Commerce Secretary, Wilbur Ross, appeared on CNBC to do some damage control, and he assured consumers that the tariffs will have a "trivial" impact on prices because it only amounts to a few pennies on cans of soup and soda, and a few hundred dollars on a new car. While these amounts may be insignificant to a man worth over ten figures, to the average American family a few hundred dollars is anything but "trivial."
Ross continued in his defense of steel tariffs by pointing out that it's been done before, and he's right. Most recently, tariffs on steel were tried by George W. Bush with disastrous results. Prices for products using steel rose 40 percent as the economy lost tens of thousands of jobs while saving 1700 steelworker jobs at a cost of approximately $800,000 each.
Countries affected by the steel tariff aren't sitting idly by. For example, the European Union responded to Trump by announcing plans to target imports of Harley-Davidson motorcycles, Levi Straus jeans, and whiskey producers from the U.S. Not to worry though. Trump's "winning" response to the EU was a threat to add a Tax on cars imported from Europe which, of course, will make autos even more expensive.
If the E.U. wants to further increase their already massive tariffs and barriers on U.S. companies doing business there, we will simply apply a Tax on their Cars which freely pour into the U.S. They make it impossible for our cars (and more) to sell there. Big trade imbalance!

— Donald J. Trump (@realDonaldTrump) March 3, 2018
Yeah, that'll show 'em who's boss!
Tariff is simply another word for "tax," and when you add Trump's interest in raising the gas tax and creating a new internet sales tax to pay for his big government agenda, you can kiss that extra money in your paycheck from the recent tax deal good-bye.
Trump promised to build a wall on our southern border to keep out illegals. Instead, he's building a wall made of tariffs, taxes and a trade war around the US economy to keep out free trade as he makes 1800s protectionism great again.
Originally posted on The Strident Conservative.
David Leach is the owner of The Strident Conservative. His politically incorrect and always "right" columns are featured on RedState.com, NOQReport.com, and TheResurgent.com.
His daily radio commentary is nationally syndicated with Salem Radio Network and can be heard on stations across America.
Follow the Strident Conservative on Twitter and Facebook.
Subscribe to receive podcasts of radio commentaries: iTunes | Stitcher | Tune In | RSS