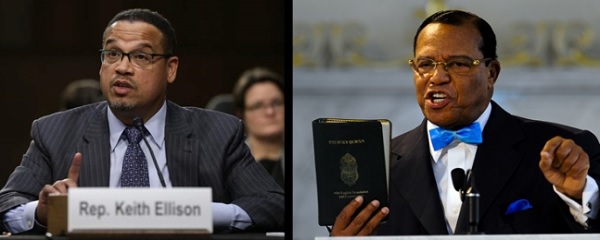 Following the 2016 election, Democrats went right to work on re-creating the party. While you would think they would take this opportunity to move the party away from the extreme left-wing ideology that had cost them the election, Democrats instead moved the party even further left.
In their search for new leadership, Democrats selected Obama's former Secretary of Labor, Tom Perez, to be the new Chair of the Democratic National Committee, while choosing Rep. Keith Ellison (D-MN) as Deputy Chair.
Ellison's rise to this powerful position was viewed by politically correct Democrats—but I repeat myself—as validation of Ellison's achievement of becoming the first Muslim ever elected to Congress.
But could there be another reason for Ellison's success?
Before being elected to represent Minnesota's Fifth Congressional District, Ellison was affiliated with the anti-Semitic and anti-American Nation of Islam. It was with this organization that Ellison developed close associations with Louis Farrakhan and Khalid Abdul Muhammad—both of whom have long-established histories of promoting violence and murder against whites and Jews.
While Ellison made efforts to distance himself from Farrakhan during his campaign for Congress, his behavior since becoming Deputy Chair of the DNC would not only indicate that he's not only still involved with the Nation of Islam, but that Farrakhan might still be behind Ellison's success.
In a recent speech loaded with anti-Semitic and racist rhetoric, Farrakhan defended Ellison's perceived betrayal to the Nation of Islam. Telling those in attendance that he considered Ellison a "beautiful brother," Farrakhan chastised anyone who attempted to attack the Minnesota congressman.
"Let me tell you something. When you want something in this world, the Jew holds the door. You will turn on your brother for some advantage in their world.

"I don't want you attacking him, because you ain't so strong yourself. If you want something from the white man, and you have to denounce me, how will you act when your trial comes?"
Talk about a Messiah complex.
Farrakhan's defense of Ellison are right in line with the teachings of the Koran where it states that Muslims can lie to unbelievers as a matter of religious policy. In other words, Ellison's "lie" about severing ties with Farrakhan is permitted if it can be used to advance the cause—a cause Ellison is still actively involved with.
Ellison's pro-Nation of Islam persona has been in the news a lot lately. In January he endorsed a book that promotes the ideology of ANTIFA—a group recognized by the DHS and FBI as a domestic terrorist group. The book calls for physical violence against ANTIFA's opponents as a "vital sliver of anti-fascist activity."
Over the past weekend, Ellison was the keynote speaker for an annual gala at the New York chapter of the Council on American-Islamic relations (CAIR), a group with ties to radical Islamic terror. He and Farrakhan also recently attended a private dinner hosted by the Iranian government.
By the way . . . Ellison has been an advocate for the repeal of the Second Amendment, a frightening little tidbit of information considering the current anti-gun hysteria coming from the White House.
When you consider the capitulation of Trump and the GOP on priorities considered important to Democrats, the ideology of Ellison and Farrakhan could be advanced if Congress flips in 2018. One more reason that true conservatism is the only hope for America.
Originally posted on The Strident Conservative.
David Leach is the owner of The Strident Conservative. His politically incorrect and always "right" columns are featured on RedState.com, NOQReport.com, and TheResurgent.com.
His daily radio commentary is nationally syndicated with Salem Radio Network and can be heard on stations across America.
Follow the Strident Conservative on Twitter and Facebook.
Subscribe to receive podcasts of radio commentaries: iTunes | Stitcher | Tune In | RSS