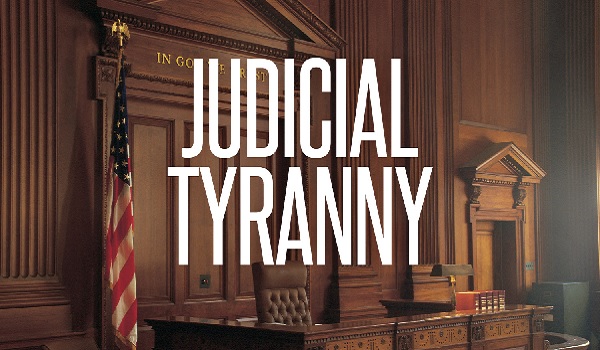 In a series of articles I wrote in October and November last year, I documented how complacency with our God-given rights had officially ushered in the era of post-Constitutional America.
This ignorant thinking has created an environment of government dependency that serves as the perfect breeding ground for tyrannical leadership from every level of government. As a result, government overreach is welcomed with open arms by a populace willing to negotiate away Constitutional rights in exchange for whatever Big Brother has to offer.
This has also given rise to the unconditional surrender of self-governance to the unelected overlords of our judicial system. Using activism disguised as justice, these judicial tyrants have elevated themselves above other branches of the government and "we the people"—writing laws instead of judging them under the progressive belief that the Constitution is an evolving, living document.
One area where the courts have routinely been guilty of judicial tyranny is in the LGBT arena. From same-sex marriage to transgenderism, courts at every level create laws out of thin air to advance the LGBT agenda, as we see in a recent ruling from the Second Circuit Court of Appeals.
Using a non-existent interpretation of Title VII of the 1964 Civil Rights Act, the court ruled that homosexuality is a protected class under the statute by remarking that while courts have not applied Title VII in this manner in the past, it was doing so now because "legal doctrine evolves."
Writing for the majority, Chief Judge Robert Katzmann, stated that "we now conclude that sexual orientation discrimination is motivated, at least in part, by sex and is thus a subset of sex discrimination. To the extent that our prior precedence held otherwise, they are overruled."
The word "sex" has always been interpreted as biological birth sex and was originally intended to protect female workers, but that didn't stop the Second Circuit Court of Appeals from stretching the law to fit an agenda.
"To determine whether a trait operates as a proxy for sex, we ask whether the employee would have been treated differently 'but for' his or her sex," Katzmann wrote. "In the context of sexual orientation, a woman who is subject to an adverse employment action because she is attracted to women would have been treated differently if she had been a man who was attracted to women.

"We can therefore conclude that sexual orientation is a function of sex and, by extension, sexual orientation discrimination is a subset of sex discrimination."
In post-Constitutional America, the letter and intent of the law is irrelevant. All that matters is how judicial tyrants can twist it to serve their politically correct and unconstitutional agenda.
Originally posted on The Strident Conservative.
David Leach is the owner of The Strident Conservative. His politically incorrect and always "right" columns are featured on RedState.com, NOQReport.com, and TheResurgent.com.
His daily radio commentary is nationally syndicated with Salem Radio Network and can be heard on stations across America.
Follow the Strident Conservative on Twitter and Facebook.
Subscribe to receive podcasts of radio commentaries: iTunes | Stitcher | Tune In | RSS