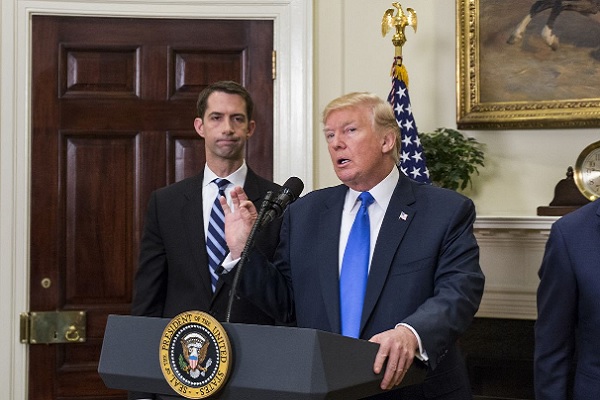 Before he was elected US Senator of Arkansas, Tom Cotton served one term (2012-2014) in the US House representing the 4th congressional district of The Natural State. As a rising star in the GOP and a military veteran who served in Afghanistan, Cotton became only the second Republican since Reconstruction to represent the 4th district, thanks to the support of both the TEA Party and the GOP establishment—support that he continued to receive in his 2014 campaign for the US Senate.
One of the reasons Cotton received conservative support—I supported him—was due to his positions on a host of issued important to conservatives. One such issue, which is the topic of the week in Washington, was immigration, specifically, what America should do with illegal aliens already in the country.
"We cannot afford to grant illegal aliens amnesty or a so-called 'earned pathway to citizenship.' Amnesty would cost billions of dollars that our government cannot afford.

"Also, amnesty would attract millions of new illegal aliens just as the 1986 amnesty did, by advertising to the world that America lacks the political will to enforce its borders."

SOURCE: 2012 House campaign website, CottonforCongress. com, "Issues," November 6, 2012
Sounds great, doesn't it? Unfortunately, 2012 was an election year and in a non-election year, Cotton's loyalties are the same as every other Republicrat and Trumplican in Washington to the party establishment.
In an interview yesterday with Trump's morning intel team—a.k.a. FOX and Friends—Cotton issued a strong endorsement of Trump's plan to grant amnesty and citizenship to 1.8 illegals. Calling it a "popular proposal" supported by "2/3 of the American people," Cotton admitted that the plan would cause an increase in illegal immigration, a consequence he once believed was reason enough not to support such a plan.
In what has become an increasingly common theme within the GOP, Tom Cotton is another example of how Republicans make whatever conservative-sounding promise they need to make in election years in the interest of political self-preservation but then toss those promises aside when the party machine comes calling.
Using his own words, Tom Cotton's support of Trump's DACA displays a "lack of political will" to do what's right for America—a disappointing reality coming from a war hero.
Originally posted on The Strident Conservative.
David Leach is the owner of The Strident Conservative. His politically incorrect and always "right" columns are featured on RedState.com, NOQReport.com, and TheResurgent.com.
His daily radio commentary is nationally syndicated with Salem Radio Network and can be heard on stations across America.
Follow the Strident Conservative on Twitter and Facebook.
Subscribe to receive podcasts of radio commentaries: iTunes | Stitcher | Tune In | RSS