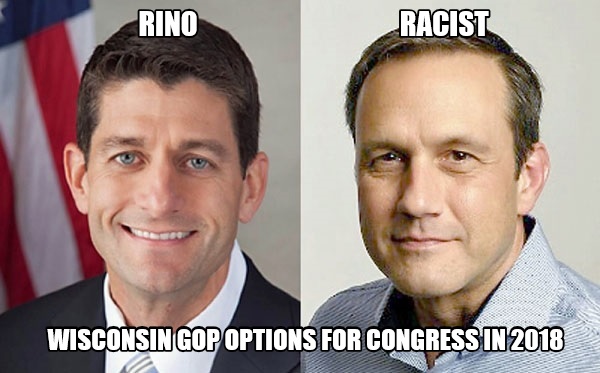 It's been a little over a quarter of a century since Ronald Reagan rode off into the California sunset; ever since that day the GOP has worked to destroy conservatives and conservative principles and, as a result, the party itself
This terminal condition gave rise to a group of Republicans we've come to know as RINOs (Republican In Name Only) because it used to be that the words "Republican" and "conservative" were synonymous. Sadly, that is no longer the case.
Besides the election of Donald Trump, there is perhaps no better example of just how far the GOP has fallen from its conservative values than the rise of Mitch McConnell and Paul Ryan into positions of leadership. This devolution has become prima facie evidence of why now is the time for conservatives fed up with Republicans who have become nothing more than inarticulate Democrats to form a new party.
For those who would challenge my conclusions, I invite you to consider the upcoming GOP primary race between Paul Ryan and Paul Nehlen in Wisconsin.
When Paul Ryan became Speaker of the House, I knew that based on his track record of spinelessness that he wouldn't be anymore conservative than his predecessor, John Boehner. Needless to say, I wouldn't shed any tears if the early inductee into my Gutless On Principles Hall of Shame were to be kicked out of his cushy job in Congress this November, but should Paul Nehlen be the guy to replace him? Not a snowball's chance in Hell.
With the support of Breitbart, along with Steve Bannon's redefinition of conservatism, Nehlen challenged Ryan in 2016–a campaign he lost by 70 percentage points despite receiving additional support from Donald Trump and an army of alt-right nationalists who had found a home with Bannon and Trump.
In his 2018 campaign, Nehlen has taken his alt-right nationalist beliefs to David Duke levels by openly attacking Jews. In an appearance on Duke's radio show, Nehlen stated how the "relentless attacks" against his "America First" position were due to his belief that "Jews control the media."
Dr. Duke and Candidate Paul Nehlen Expose the Zio Attack on Him & All of Us!

God bless Mr. Nehlen. https://t.co/6Yo1KZZ94khttps://t.co/mFt6dZYeim pic.twitter.com/s7eY0oJGxY

— David Duke (@DrDavidDuke) January 29, 2018
As it currently stands, the GOP in Wisconsin is offering a choice between a RINO and a racist for Congress. Using the now widely accepted "lesser of two evils" approach to voting, that means that one of these men will represent the irreparable party in November.
By the way, Wisconsin isn't an isolated case. Such losing binary choices are being foisted on conservatives all over America. I can only hope that an army of dedicated patriots will rise up and say, ENOUGH!
The solution to America's problems won't come from the two-party duopoly owned and operated by the Republicans and the Democrats. It's up to us to draw a line in the sand, stand our ground, and defend our conservative values.
Originally posted on The Strident Conservative.
David Leach is the owner of The Strident Conservative, your source for opinion that's politically incorrect and always "right." His columns are featured on RedState.com, NOQReport.com, and TheResurgent.com.
His daily radio commentary is nationally syndicated with Salem Radio Network and can be heard on stations across America.
Follow the Strident Conservative on Twitter and Facebook.
Subscribe to receive podcasts of radio commentaries: iTunes | Stitcher | Tune In | RSS