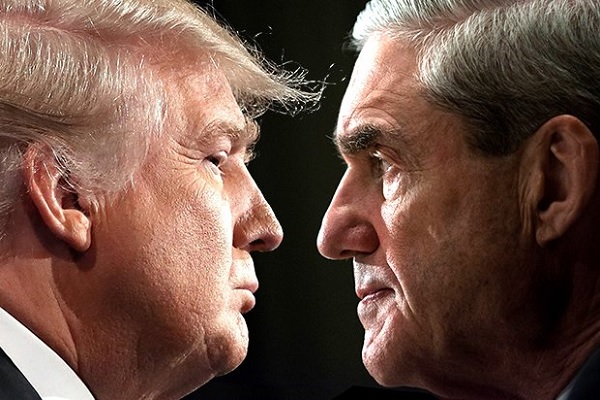 After taking some time to bask in the afterglow of Trump's Obama-esque State of the Union address yesterday, members of the so-called conservative media, the GOP and the Trump administration quickly returned to advancing the New York Liberal's top agenda item—smearing the Mueller investigation by releasing an anti-FBI memo co-written by Reps. Devin Nunes (R-CA) and Trey Gowdy(R-SC).
Following an unprecedented and highly partisan vote by the House Intelligence Committee chaired by Nunes, the decision was made to release the document that Sean Hannity claims provides proof of a scandal "worse than Watergate." Despite the risk of causing serious harm to national security, the four-page memo allegedly containing evidence of FISA abuses by the FBI now awaits Trump's approval to make it publicly available; he has five days to pretend he's actually undecided about releasing it.
The motivation behind the kabuki theater produced by Donald Trump and his GOP loyalists couldn't be more obvious.
We begin with the likelihood that Nunes collaborated with the White House to create the memo. It's been reported that Senior White House officials provided Nunes with information detailing Trump's claim that Obama had "wiretapped" Trump Tower—a report Nunes lied about to cover it up.
Leading up to Trump's State of the Union (a.k.a. his 2020 campaign fundraiser), the official word from Sarah Huckabee Sanders was that Trump hadn't seen the memo and needed time to review it before deciding about releasing it—a position she reiterated in a CNN interview yesterday.
Yet, during a hot mic moment following Tuesday's speech, Trump was overheard telling a GOP member that he was "100 percent" going to release it, and White House Chief of Staff John Kelly stated yesterday that the memo will be released "pretty quick."
In a piece on Politico.com, former Ted Cruz communications director Amanda Parker wonders, if this memo is so damning why is the GOP playing the #ReleaseTheMemo hashtag game instead of partnering up with the DOJ, the FBI, and members of the Senate to deal seriously with the situation? She succinctly answers the question:
"We are, at Donald Trumps behest, fully engulfed in a narrative explicitly designed to impugn and destroy the credibility of the law enforcement agency tasked with investigating the Trump campaign's relationship with Russia during the 2016 election.

"We are being gaslit into believing that, supposedly, those investigating Trump's ties to Russia are so biased and corrupt that nothing they produce should be believed."
As a candidate, Trump routinely used false accusations and innuendo to destroy his competitors when it looked like they were on the verge of exposing his narcissistic lies. Is it possible that Trump worked with Nunes to create a memo filled with accusations and innuendo against the FBI in an attempt to destroy Mueller?
I think you know the answer.
Originally posted on The Strident Conservative.
David Leach is the owner of The Strident Conservative, your source for opinion that's politically incorrect and always "right." His columns are featured on RedState.com, NOQReport.com, and TheResurgent.com.
His daily radio commentary is nationally syndicated with Salem Radio Network and can be heard on stations across America.
Follow the Strident Conservative on Twitter and Facebook.
Subscribe to receive podcasts of radio commentaries: iTunes | Stitcher | Tune In | RSS