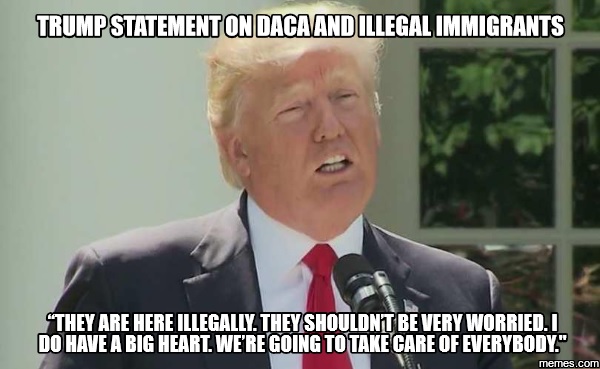 A few weeks ago, I made a promise to the Trump cult that I would work on being less critical of the president and that I would endeavor to find "good" things to say about him.
Though my commitment has been challenging at times, I've had some success. For example, I selected Donald Trump to receive our first ever Wile E. Coyote award recognizing his accomplishments as a self-proclaimed "very stable genius." Shortly afterward, I wrote an article acknowledging Trump for keeping his campaign promise to kill the First Amendment.
Never one to rest on my laurels, I'm happy to announce another milestone in the Trump presidency following yesterday's announcement about his plan to "fix" DACA.
With his position on Obama's Deferred Action for Childhood Arrivals executive order changing on every day ending in "y," Trump made it a bit harder to find something good to say. But as the old saying goes, all I had to do is drill deep enough to strike oil.
During the recent so-called government shutdown, Trump told Democrats that any deal on DACA—which is what Chuck Schumer was demanding to reopen Washington—would only be made "if it's good for the country." Meanwhile, Trump and Mitch McConnell promised the Democrats that they would take up DACA once the temporary budget was passed.
Once the budget band-aid was signed into law, Trump and the GOP went right to work delivering a DACA bill that Chuck and Nancy Pelosi should love, while fulfilling a promise Trump made during his first week in office.
"They are here illegally. They shouldn't be worried. I do have a big heart. We're going to take care of everybody."
In what is being called a "dramatic concession," a White House official confirmed that Trump will present a plan on Monday that creates a pathway to citizenship for not just those originally eligible for DACA—800,000 is the fake number typically used—but for up to 1.8 million illegals.
In a piece I wrote earlier this week about how a DACA fix could lead to a National ID Card for every American, I stated the following:
According to Trump—who wants a DACA fix almost as bad as Schumer does—a deal will be made "if and only if it's good for the country." Most likely, that means amnesty and a pathway to citizenship for illegals wrapped inside a bill that ends "chain migration," the diversity lottery program, and provides taxpayer funds to build the border wall that Trump said Mexico will pay for.
Not to pat myself on the back or anything, but it looks like I was right.
According to the administration, this "compromise position" by the president will seek the following in exchange for amnesty: $25 Billion for the imaginary border wall, an end to family migration, an end to the diversity VISA lottery, and closing "legal loopholes" to enable an increase in deportations.
So, there's another "good" thing I can say about Trump—he said he'd take care of everybody, and his DACA fix will do just that.
Originally posted on The Strident Conservative.
David Leach is the owner of The Strident Conservative, your source for opinion that's politically incorrect and always "right." His columns are featured on RedState.com, NOQReport.com, and TheResurgent.com.
His daily radio commentary is nationally syndicated with Salem Radio Network and can be heard on stations across America.
Follow the Strident Conservative on Twitter and Facebook.
Subscribe to receive podcasts of radio commentaries: iTunes | Stitcher | Tune In | RSS