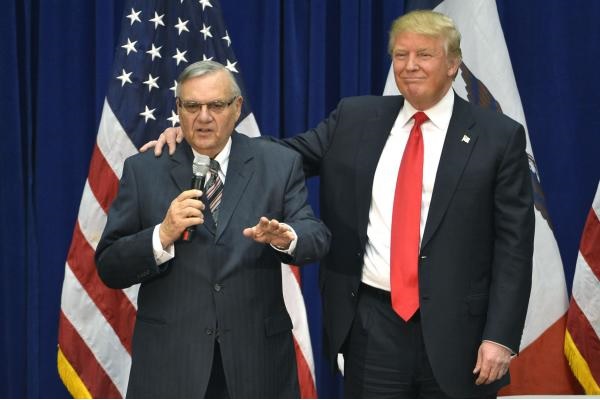 Earlier this week Senator Jeff Flake (R-AZ) gave his much-anticipated speech from the Senate floor where he criticized Donald Trump for his never-ending assault on the First Amendment.
After a year's worth of listening to the president refer to unfavorable news stories as "fake news," and going so far as to label the media "an enemy of the American people," Flake reminded his colleagues in Congress, as well as the president, that these attacks were eerily reminiscent of words infamously used by Russia dictator Josef Stalin when describing his enemies.
As I wrote in the days leading up to Flake's speech, Trump's fake news mantra also bore a striking resemblance to Hitler and Nazi Germany.
While Flake's status as a RINO might make it easy to dismiss his speech, the conclusion of his dissertation is undebatable—Trump is increasingly becoming a threat to the freedom of the press.
However, there are Trump sycophants who disagree with me.
Former Arizona State Senator and current GOP candidate to replace Flake, Kelli Ward, threw down the Trumplican gauntlet as she challenged every candidate in the race to publicly condemn Flake's remarks.
.@JeffFlake's appalling comparison of @realDonaldTrump to Soviet dictator Stalin on floor of the Senate today is an embarrassment to AZ. I call on all candidates seeking to replace him to join me in condemning it. @RealSheriffJoe @MarthaMcSally @kyrstensinema @deedra2018 pic.twitter.com/IDH3cCY7Ex

— Dr. Kelli Ward 🇺🇸 (@kelliwardaz) January 17, 2018
While the response to her challenge has been weak, candidate Joe Arpaio, the 85-year-old former sheriff of Maricopa County, Arizona, and undying Obama "birther," one-upped Ward in a TV interview where he not only condemned Flake; he accused him of treason
"I don't know if Sen. Flake should make some comments against our commander-in-chief. It could be considered by some a borderline treason-type situation."
Arpaio went on to suggest that the public should be "careful" when criticizing the president and that the right to do so should only be exercised "within reason."
How much more Donald Trump can you get?
The GOP has been hijacked by Trumplicanism and Sheriff Joe is running on the Trumplican platform, a platform that considers the First Amendment a threat to Donald Trump, and believes that those who exercise their free speech rights are most likely guilty of treason.
Originally posted on The Strident Conservative.
David Leach is the owner of The Strident Conservative, your source for opinion that's politically incorrect and always "right." His columns are featured on RedState.com, NOQReport.com, and TheResurgent.com.
His daily radio commentary is nationally syndicated with Salem Radio Network and can be heard on stations across America.
Follow the Strident Conservative on Twitter and Facebook.
Subscribe to receive podcasts of radio commentaries: iTunes | Stitcher | Tune In | RSS