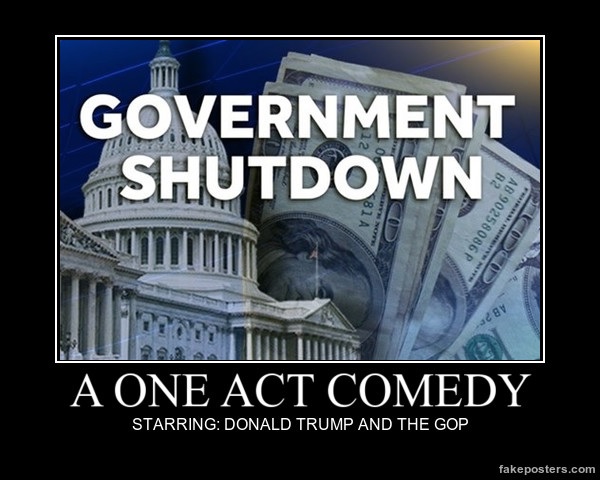 I hope you've got your prepper gear ready, America, because life as we know it comes to an end Friday at midnight. At least, that's what Trump and the GOP want you to believe when the current Continuing Resolution (CR) expires—the third in a year—causing a government shut-down.
Of course, this political theater disguised as concern for the American people is just a one-act comedy, and we've seen it before from these clowns in Washington. True to form, this latest performance has been scheduled to take place during an election year . . . you know, to make it seem more real.
If you only listened to the critics known as the mainstream media and Political Action Committees, you might be convinced that this apocalyptic shutdown might actually occur. Based on what we've seen from past performances of this play, however, such a scenario is more like make-believe and less like reality.
There have been 18 government shutdowns since 1976, and the impact has been so small that it reminds me of the proverbial tree that fell in the woods while no one was around . . . If a government shutdown occurred, and the media didn't report it, would anyone notice?
Sadly, in the age of Trump and his Twitter account, people will notice, with or without the media.
….Because of the Democrats not being interested in life and safety, DACA has now taken a big step backwards. The Dems will threaten "shutdown," but what they are really doing is shutting down our military, at a time we need it most. Get smart, MAKE AMERICA GREAT AGAIN!

— Donald J. Trump (@realDonaldTrump) January 12, 2018
Trump has a well-documented habit of making negotiations on big issues worse by attacking others. Still, this claim about how a government shutdown will shut down the military is hyperbole—only non-essential personnel are affected—and his mention of DACA and how the Democrats have taken a big step backwards is simply a lie.
Trump and the GOP want amnesty for DREAMers as much as the Democrats do, and they won't let DACA get in the way of making a deal—a fact recently confirmed by Mitch McConnell.
Speaking of McConnell . . . he has surrendered the GOP's negotiating position by taking a government shutdown off the negotiating table—a position he has held since before becoming Majority Leader. In Mickey's world, spending money we don't have to keep big government growing is paramount to peskier issues like fiscal responsibility and keeping the GOP's campaign promises.
With Trump's blessing, Paul Ryan—who has taken entitlement reform off the table to negotiate a deal with Democrats—and Mitch McConnell are working diligently to get CR #4 passed ahead of Friday's deadline. When it passes, the GOP will have more time to negotiate their cave on DACA in addition to their cave on spending limits.
I'm going to step out on a limb here and predict that the CR is as good as done. Like I said, this is a one-act play and we've seen it before.
Originally posted on The Strident Conservative.
David Leach is the owner of The Strident Conservative, your source for opinion that's politically incorrect and always "right." His columns are featured on RedState.com, NOQReport.com, and TheResurgent.com.
His daily radio commentary is nationally syndicated with Salem Radio Network and can be heard on stations across America.
Follow the Strident Conservative on Twitter and Facebook.
Subscribe to receive podcasts of radio commentaries: iTunes | Stitcher | Tune In | RSS