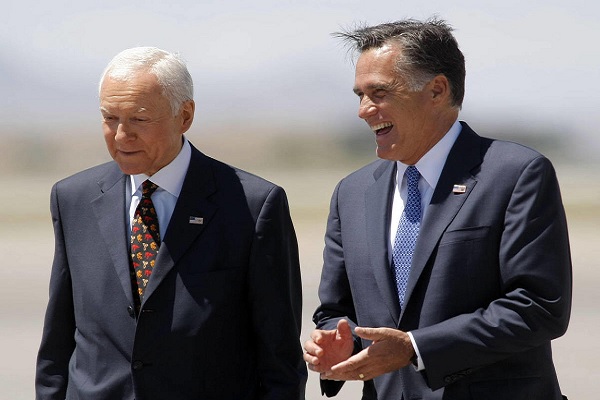 On his Twitter account yesterday Sen. Orrin Hatch–the quintessential example for why America needs to hold an Article V Convention of States–announced that his on again/off again retirement plans were back on.
An announcement from Senator Orrin G. Hatch. #utpol pic.twitter.com/UeItaLjR3j

— Senator Hatch Office (@senorrinhatch) January 2, 2018
Did he actually brag about voting for every current member of the Supreme Court?
While the news that another Mitch McConnell flunky has decided to leave the RINO-infested waters of Congress is normally good news, Hatch's decision looks more like one of those "damned if you do/damned if you don't" moments we've come to expect from the GOP establishment.
If Hatch had heeded the politically self-interested call from Trump and McConnell to break his campaign promise to retire and serve another term (assuming he won), we would have been stuck with more of the status quo from the Senate–damned if you do. However, with Hatch's apparent decision to retire, Operation Switcheroo positions Mitt Romney to be the next senator from Utah–damned if you don't.
As Trumplicanism continues to devour what little remains of conservatism within the GOP, it's no surprise that Trump opposes the prospect of a Senator Romney because he sees him as obstacle to his agenda. You may recall that the former governor of Massachusetts was openly critical of Trump and opposed his nomination.
Wait a minute. If Romney opposes Trump, isn't that a good thing for conservatives? Nope.
Mitt the Flip's opposition to Trump was nothing more than a self-serving attempt to deny Trump the 1237 delegates necessary to win the nomination. If he had succeeded, this would have created a brokered convention where Romney could ride in on a white horse and become the nominee.
Romney wasn't #NeverTrump, he was forever Romney.
When you consider Romney's willingness to be "tortured" during a fake interview to become Trump's Secretary of State, I really don't think Trump has much to worry about. Heck, "severely conservative" Romney blames the media and conservatives for the GOP's failures just like Trump does.
Utah could take this opportunity to replace Orrin Hatch with another Mike Lee. Unfortunately, it looks like Hatch will be replaced by a GOP establishment cheerleader who's just as bad as he is. If Mitt Romney's political career has shown us anything, it's that his so-called values are negotiable and for sale to the highest bidder if it will help his chances to win an election.
Originally posted on The Strident Conservative.
David Leach is the owner of The Strident Conservative, your source for opinion that's politically incorrect and always "right." His columns are featured on RedState.com, NOQReport.com, and TheResurgent.com.
His daily radio commentary is nationally syndicated with Salem Radio Network and can be heard on stations across America.
Follow the Strident Conservative on Twitter and Facebook.
Subscribe to receive podcasts of radio commentaries: iTunes | Stitcher | Tune In | RSS