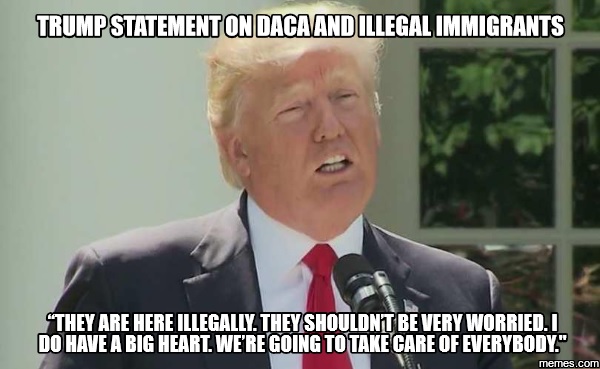 In the days leading up to the Iowa Caucus in 2016, Donald Trump made an appearance on CBS's Face the Nation where he said that he would be a different person as president than he had been as a candidate. In the interview, Trump claimed that this change meant he would be less combative and "wouldn't talk as much," which as we have seen after a year's worth of tweets was a lie.
However, if we use his campaign promises as the measuring stick, then Trump told the truth because many of his actions as president have been completely different from his promises as a candidate, specifically regarding illegal immigration.
Beginning with his commitment to build a "big, beautiful, powerful wall" and have Mexico pay for it, to overturning Obama's unconstitutional executive orders allowing illegal immigrants to stay in the country, Trump's promise to fix America's immigration problem has proven to be little more than hyperbolic rhetoric.
During his first year in office, Trump repeatedly elected to keep Obama's Deferred Action for Childhood Arrivals (DACA) order in place because, as White House Chief of Staff John Kelley once said when he was Homeland Security Secretary, repealing DACA would result in the deportation of DREAMers. He further stated that since Trump is officially committed to keeping the million plus DREAMers in the country, DACA needed to stay in effect until they could be given amnesty and a pathway to citizenship.
While Trump supporters will point to his so-called order to rescind DACA back in September, the reality is that the order was in-name-only and was designed to give Congress time to make DACA permanent through legislation.
Congress now has 6 months to legalize DACA (something the Obama Administration was unable to do). If they can't, I will revisit this issue!

— Donald J. Trump (@realDonaldTrump) September 6, 2017
It was also reported at the time by those within the administration that Trump had no intention of rescinding DACA even if Congress failed to make it permanent—a point Trump appeared to confirm himself.
Does anybody really want to throw out good, educated and accomplished young people who have jobs, some serving in the military? Really!…..

— Donald J. Trump (@realDonaldTrump) September 14, 2017
…They have been in our country for many years through no fault of their own – brought in by parents at young age. Plus BIG border security

— Donald J. Trump (@realDonaldTrump) September 14, 2017
Beginning this week, work on achieving Trump's goals for DREAMers will begin in earnest as leaders from both parties will be meeting with John Kelley to get the ball rolling. According to Trump, he will only allow DACA to be made permanent if financing for the wall is provided.
The Democrats have been told, and fully understand, that there can be no DACA without the desperately needed WALL at the Southern Border and an END to the horrible Chain Migration & ridiculous Lottery System of Immigration etc. We must protect our Country at all cost!

— Donald J. Trump (@realDonaldTrump) December 29, 2017
Trump's tweet is a direct contradiction to statements made by people within the administration. White House legislative director Mark Short told a group of reporters at a Christian Science Monitor event back in September that Trump wouldn't hold DACA hostage to wall funding. Sarah Huckabee-Sanders also confirmed that Trump has always considered amnesty for DREAMers a top priority.
Meanwhile, Gang of Eight member Marco Rubio confirmed over the weekend that making DACA permanent would be only a beginning to making other permanent changes to immigration enforcement—though he gave no particulars on what that means.
It looks like Trump told the truth when he said he'd be different after the election because candidate Trump promised to get rid of DACA, but President Trump is doing the opposite
Originally posted on The Strident Conservative.
David Leach is the owner of The Strident Conservative, your source for opinion that's politically incorrect and always "right." His columns are featured on RedState.com, NOQReport.com, and TheResurgent.com.
His daily radio commentary is nationally syndicated with Salem Radio Network and can be heard on stations across America.
Follow the Strident Conservative on Twitter and Facebook.
Subscribe to receive podcasts of radio commentaries: iTunes | Stitcher | Tune In | RSS