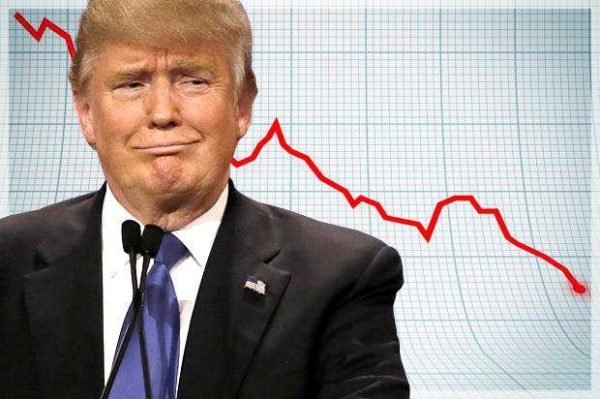 The list of excuses for the Republican Party's failure to retain the US senate seat once held by Jeff Sessions in one of the reddest of red states grows longer with each passing day following Roy Moore's loss to Doug Jones in Alabama on Tuesday.
The reason I originally endorsed Luther Strange (and his numbers went up mightily), is that I said Roy Moore will not be able to win the General Election. I was right! Roy worked hard but the deck was stacked against him!

— Donald J. Trump (@realDonaldTrump) December 13, 2017
If last night's election proved anything, it proved that we need to put up GREAT Republican candidates to increase the razor thin margins in both the House and Senate.

— Donald J. Trump (@realDonaldTrump) December 13, 2017
Former McConnell aide 'relieved' Moore lost, attacks Bannon https://t.co/ZMbOiyB3pi

— Josh Holmes (@HolmesJosh) December 14, 2017
When it comes to Alabama politics Steve Bannon should have followed President @realDonaldTrump lead in supporting Luther Strange.

Trump's instincts on the Alabama race proved to be correct.

— Lindsey Graham (@LindseyGrahamSC) December 13, 2017
As Trump and the GOP establishment try to distance themselves from this Republican Alpocalypse—apologies to "Weird Al" Yankovic—one of the harsh realities of the Alabama election is this: Democrats are on the crest of an election wave that could give them control of all or part of Congress in 2018.
Additionally, Democrats stand to realize hundreds of victories in state legislature races, which will give the party a great deal of influence ahead of the next round of congressional redistricting—something that Barack Obama and Eric Holder have already been working on.
Despite what the Trump chorus line will tell you, the New York liberal's record-low job approval numbers are mostly responsible for this sad state of affairs.
Beginning with special elections held in Kansas and Georgia and continuing through the regular election season in 2017, signs have been everywhere that Trump's alliance with the GOP establishment has been a serious drag on Republicans.
Historically, midterm elections are unfavorable to the party occupying the White House, but they are made worse when the occupant has poor approval ratings. For example, every post-war president with a sub-50 percent approval rating has lost a double-digit number of house seats, with massive landslides being more the rule than the exception.
Trump's current sub-40 percent average approval rating is lower than those presidents who lost over forty house seats. In fact, the last first-term president with Trump's level of unpopularity was Harry Truman, who saw his party lose fifty-five seats in the House and twelve seats in the Senate.
In a poll released Wednesday by the Monmouth University Polling Institute, we learned that Democrats enjoy a 15-point advantage over Republicans on a generic 2018 ballot. In the survey, 51 percent of registered voters said they would vote for or lean toward a Democratic candidate if the midterm elections were held today. Only 36 percent of voters said they would vote or lean Republican.
Meanwhile, as the finger-pointing by Trump and the GOP establishment goes on, and Steve Bannon continues his war against those who refuse to bow at the Trumplican altar, conservatism continues to die and Democrats prepare to seize the reins of government.
Originally posted on The Strident Conservative.
David Leach is the owner of The Strident Conservative, your source for opinion that's politically-incorrect and always "right." His columns are featured on RedState.com, NOQReport.com, and TheResurgent.com.
His daily radio commentary is nationally syndicated with Salem Radio Network and can be heard on stations across America.
Follow the Strident Conservative on Twitter and Facebook.
Subscribe to receive podcasts of radio commentaries: iTunes | Stitcher | Tune In | RSS