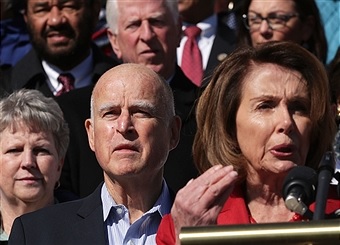 As a born-again Christian trying to work out my faith with fear and trembling (Phil. 2:12), I'm always looking out for the little nuggets of spiritual truth vital to maturing in Christ (Heb. 6:1-2).
I'm often amazed at how some of these nuggets are found in the most unlikely places from the most unlikely people. For example, it was in the state of California that I learned a great deal about God from two giants of the faith: Gov. Jerry Brown and Rep. Nancy Pelosi.
Back in the spring, Brown—a part-time Catholic who studied Zen Buddhism—proclaimed that building border walls and deporting illegals was unchristian because such policies failed to "treat the least of these as we treat the Lord."
Over the summer, when the GOP was pretending to repeal Obamacare, Nancy Pelosi stood as a voice in the wilderness as she revealed to Obamacare unbelievers that God is a big fan of the Affordable Care Act and how those who opposed it were dishonoring God.
Around that time, Pelosi also declared that God supported the Paris Climate Agreement, and she warned Americans of the consequences of being global warming deniers. Now, in apparent obedience to scripture's command that everything "be established by the testimony of two or three witnesses" (2 Corinthians 13:1), Brown established Pelosi's warning in a 60 Minutes interview when he blamed the California wildfires on those who deny "the truth" about global warming. He went on to say that Trump and the GOP don't "fear the Lord" or "the wrath of God" when it comes to their environmental policies.
California Governor Jerry Brown criticizes President Trump for climate change position as California Burns. @BillWhitakerCBS reports, Sunday. #60Minutes https://t.co/nEh9Q87f87 pic.twitter.com/2sqYScz4Oj

— 60 Minutes (@60Minutes) December 8, 2017
The revelation knowledge revealed by Brown and Pelosi has worked to clear up a lot of my spiritual confusion.
For example, I used to struggle to understand how California can be a leader in murdering the unborn, can turn public schools into indoctrination centers to brainwash children into accepting the LGBT agenda, and can promote sexually exploiting children by decriminalizing child prostitution.
Now, I see that God clearly doesn't care about such trivial matters. He's much more interested in fighting global warming, saving Obamacare, and keeping America's borders open than he is about the shedding of innocent blood (Psalms 106:38), and causing little ones to stumble (Mark 9:42).
That's the gospel according to Jerry Brown and Nancy Pelosi.
Originally posted on The Strident Conservative.
David Leach is the owner of The Strident Conservative, your source for opinion that's politically-incorrect and always "right." His columns are featured on RedState.com, NOQReport.com, and TheResurgent.com.
His daily radio commentary is nationally syndicated with Salem Radio Network and can be heard on stations across America.
Follow the Strident Conservative on Twitter and Facebook.
Subscribe to receive podcasts of radio commentaries: iTunes | Stitcher | Tune In | RSS