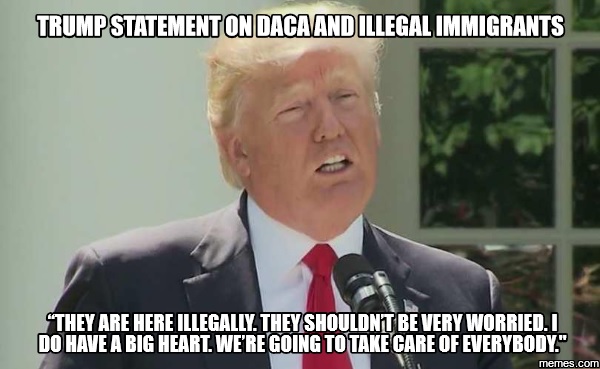 In an opinion piece in the Washington Post over the weekend, the Editorial Board blasted Congress for not doing anything to save Deferred Action for Childhood Arrivals (DACA). The executive order issued by Barack Obama has prevented a million or more so-called DREAMers–also known as illegal immigrants–from being deported.
However, much like the story of Chicken Little, the illegal immigration sky is not falling because, unfortunately, Trump and the GOP-controlled Congress are fully behind efforts to save DACA and protect those who are, as the Washington Post calls them, "American in all but the legal sense."
The Post is basing its hysteria on Trump's Rescind-In-Name-Only order back in September to end DACA, which allegedly takes effect following a six-month grace period designed to allow Congress to come up with a way to "legalize" it. And if Congress fails, Trump will "revisit the issue."
Congress now has 6 months to legalize DACA (something the Obama Administration was unable to do). If they can't, I will revisit this issue!

— Donald J. Trump (@realDonaldTrump) September 6, 2017
Of course, Donald "great heart" Trump used the word "revisit" to give himself an out in March when he will likely renew Obama's executive order. And according to a senior White House aide at the time, that was Trump's plan all along.
It's quite possible that the senior aide who provided this tidbit was White House Chief of Staff, John Kelly. In testimony to Congress back in June, then Homeland Security Secretary Kelly informed America that Trump had no intention of rescinding DACA until an amnesty plan was created and made into law.
As I stated earlier, Congress is cooperating with Trump in the scheme to save DACA. Paul Ryan and Mitch McConnell have gone on record that they will negotiate with Democrats to create an amnesty plan, even using the budget if necessary. The budget idea could gain some traction following Trump's new alliance with Chuck Schumer and Nancy Pelosi.
The Washington Post Editorial Board simply missed this one. With or without DACA, Trump and the GOP will make sure DREAMers stay right where they are.
Originally posted on The Strident Conservative.
David Leach is the owner of The Strident Conservative, your source for opinion that's politically-incorrect and always "right." His articles can also be found on RedState.com.
His daily radio commentary is nationally syndicated with Salem Radio Network and can be heard on stations across America.
Follow the Strident Conservative on Twitter and Facebook.
Subscribe to receive podcasts of radio commentaries:
iTunes | Stitcher | Tune In | RSS