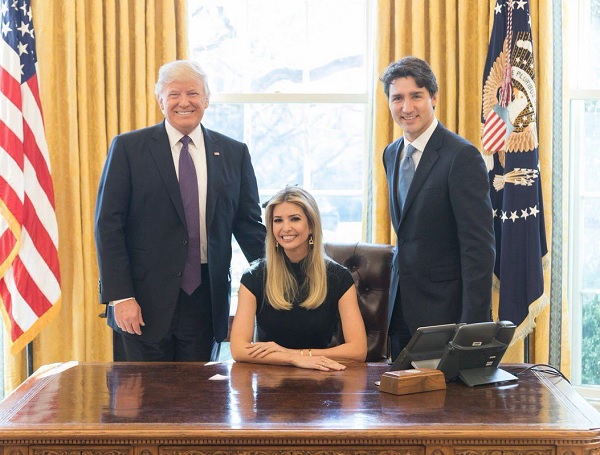 From the beginning of his Presidency, Donald Trump had every intention of allowing his office to be used as a platform to advance the socialist feminist agenda of a woman he once said he would be hitting on if she wasn't his daughter, Ivanka.
Beginning with an announcement earlier this year about advancing Hillary Clinton's policies regarding government spending on women's health care and government-guaranteed paid family medical leave, Ivanka has elevated many of daddy's her priorities to the top of the White House agenda.
With the GOP focusing on so-called tax reform in a last-ditch effort to have something to hold up as an accomplishment to the voters next year, Ivanka's has carpe taxo reformo as the means to finance her "It Takes a Village" approach to "help" working families.
Thank you @IvankaTrump for leading the fight for real working family tax relief! https://t.co/O9otb88Mf5

— Mike Lee (@SenMikeLee) October 31, 2017
Encouraging to see progress every day towards pro-family #TaxCuts More work remains but the trend is good https://t.co/rJMy3nAICf

— Marco Rubio (@marcorubio) November 15, 2017
Unfortunately, as we have witnessed with "conservatives" like Mike Lee and Marco Rubio, the now-rebranded Trumplican Party has joined forces with the New York liberal daughter of the New York liberal president to advance her "pet project" idea on taxation. Both Lee and Rubio have made doubling the child tax credit a non-negotiable item for their support of the Senate tax reform bill—a broken promise bill that will raise taxes, not reduce them, on much of the middle class.
Over the weekend, Ivanka appeared on Trump News—I'm sorry, FOX News—defending tax reform and the increase in the child tax credit using data from an Obama administration report taken out of context.
"We spend less than any country in the developed world on children between the ages of zero and five. It's just a fact, we don't invest enough resources."
Zero-aged children? She must have forgotten about the taxpayer funds going to Planned Parenthood, an organization she supports and has worked to save since the November election. After all, murdering babies and selling their body parts can't be done for free.
Donald, Ivanka, and the Trumplican Party are pushing a tax reform plan that's bad for America but great for Democrats. Aren't you glad we didn't elect Hillary?
Originally posted on The Strident Conservative.
David Leach is the owner of The Strident Conservative, your source for opinion that's politically-incorrect and always "right." His articles can also be found on RedState.com.
His daily radio commentary is nationally syndicated with Salem Radio Network and can be heard on stations across America.
Follow the Strident Conservative on Twitter and Facebook.
Subscribe to receive podcasts of radio commentaries:
iTunes | Stitcher | Tune In | RSS