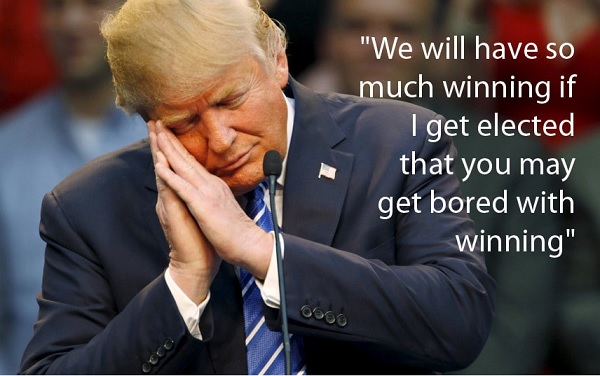 Donald Trump once claimed that America would win so much under his presidency that we would grow tired of it and beg him to stop because we wouldn't be able to take it anymore.
When Trump made this nonsensical claim, Trump loyalists assumed he was talking about them. But as we learned after the elections Tuesday night where Democrats mopped the floor with humiliated Republicans, it appears that Trump meant that the Democrat party would be experiencing the thrill of victory while the rest of America would be stuck with the agony of defeat.
Dear Pundit Friends, please stop attributing this D landslide in VA to "changing demographics". VA hasn't changed that much since last Nov. 8 (Hillary by 5%). The bigger explanation is a backlash to Trump and Trumpism, pure and simple. #VAGov

— Larry Sabato (@LarrySabato) November 8, 2017
Democrats will make more out of Tuesday's results than they probably should. And even though Virginia and New Jersey are left-leaning states, exit polls have confirmed that the Democrat landslide in Virginia was a direct reflection of Donald Trump's historically low job approval numbers.
Ed Gillespie worked hard but did not embrace me or what I stand for. Don't forget, Republicans won 4 out of 4 House seats, and with the economy doing record numbers, we will continue to win, even bigger than before!

— Donald J. Trump (@realDonaldTrump) November 8, 2017
In the same way that Democrats are making more of Tuesday's results than they should, Republicans—or Trumplicans as they are now known—are making too little of this humiliating defeat. Trump thinks the problem is that Ed Gillespie didn't "embrace" him, and Ronna McDaniel, the Republican National Committee chair, agrees.
In an appearance on FOX News—where else would a Trump talking head go—McDaniel went into spin mode as she tried to brush off the GOP losses in Virginia as being inevitable due to that state's status as a blue state. But then McDaniel went boldly where no RNC chair has gone before when she credited Democrat Ralph Northam's victory as the result of his embrace of Trumplicanism.
Yep . . . she really did.
"Northam ran left to win the primary and then he came to the middle (saying) 'I'm gonna work with President Trump, if it helps Virginians.'"
Of course, this should be a wake-up call for Trump to stop being an idiot and for the GOP to start keeping the promises they made to get elected. But alas, there's no room for doing what's right in the Trumplican Party.
Meanwhile, it looks like the Democrats will win even more in 2018. So much winning, in fact, that I feel like I am forced to say, "Please, Mr. President. It's too much winning. We can't take it anymore."
Originally posted on The Strident Conservative.
David Leach is the owner of The Strident Conservative, your source for opinion that's politically-incorrect and always "right." His articles can also be found on RedState.com.
His daily radio commentary is nationally syndicated with Salem Radio Network and can be heard on stations across America.
Follow the Strident Conservative on Twitter and Facebook.
Subscribe to receive podcasts of radio commentaries:
iTunes | Stitcher | Tune In | RSS