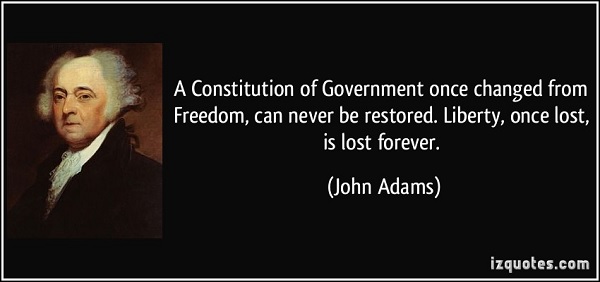 We've talked a lot this week about our dying Constitution and how we are in danger of becoming a post-Constitutional America. From activist federal judges voiding the Tenth Amendment in North Carolina to President Trump himself, we've been witness to how close we are to reaching the point of no return.
We have also identified how public education—from preschool through college—is indoctrinating a generation of Constitutional illiterates bent on destroying liberty in the name of so-called "fairness" and political correctness.
In nearly every walk of American life, we are moving ever closer to the day when liberty will be lost. And as John Adams once warned, "Liberty, once lost, is lost forever."
In a rare interview, U.S. Supreme Court Justice Clarence Thomas expressed his concern about how America "is getting quite comfortable (with) limiting ideas and exposure to ideas" and the damage it will cause.
"Today we seem to think that everything has to be one size fits all, and people can't have opinions that make us uncomfortable, or ideas that make us uncomfortable, or that we don't agree with."
It's encouraging to hear a Supreme Court Justice talk in such terms, but as we know all too well this anti-Constitution attitude is alive and well within the halls of America's courts. With the politicization of judicial appointments, too often decisions made by the courts boil down to political ideology instead of the Constitution. This point was made by Daniel Horowitz at Conservative Review in a podcast I featured entitled, "The courts are destroying this country, and we are letting it happen."
Near the end of his interview, Justice Thomas expressed his commitment to our Constitution when he said:
"Some people have decided that the Constitution is not worth defending, that history isn't worth defending, that the culture and the principles aren't worth defending. Certainly, in my position, they have to be worth defending. That's what keeps you going, that's what energizes you."
Government on every level is bringing us ever closer to seeing our Constitutional rights destroyed, and conservatives need to decide that the Constitution is worth defending as Justice Thomas stated.
Originally posted on The Strident Conservative.
David Leach is the owner of The Strident Conservative, your source for opinion that's politically-incorrect and always "right." His articles can also be found on RedState.com.
His daily radio commentary is nationally syndicated with Salem Radio Network and can be heard on stations across America.
Follow the Strident Conservative on Twitter and Facebook.
Subscribe to receive podcasts of radio commentaries:
iTunes | Stitcher | Tune In | RSS