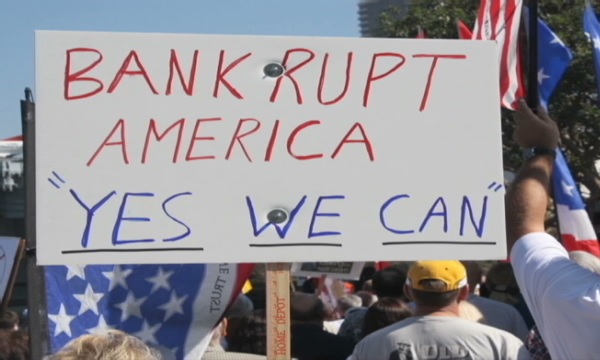 When the Senate passed the #MOGA (Make Obama Great Again) budget, it laid the groundwork for funding many of the pet projects of Obama and the left, including: Planned Parenthood, DACA, and Obamacare subsidies. If it becomes law, this budget will put America on the fast-track to a Thelma-and-Louise-styled dive off the financial cliff.
Even with these glaringly obvious betrayals to the GOP's alleged commitments to rein in out-of-control Washington, we have been assured by Mitch McConnell, Paul Ryan, and the White House that this so-called budget—more like a big-government bucket list to be checked off before America dies—is a necessary step toward the creation of a yet-to-be-revealed tax reform package.
The #budget we passed last wk isn't just about getting our fiscal house in order, it's also about getting our #economy going & growing again

— Leader McConnell (@senatemajldr) October 23, 2017
I applaud the Senate for passing a budget, keeping us on track to enacting historic tax reform. https://t.co/iTEyBpOgsO pic.twitter.com/jO5RvFEr5g

— Paul Ryan (@SpeakerRyan) October 20, 2017
Budget that just passed is a really big deal, especially in terms of what will be the biggest tax cut in U.S. history – MSM barely covered!

— Donald J. Trump (@realDonaldTrump) October 21, 2017
And just what does this tax reform look like? There's no answer to that question because the GOP has adopted the Nancy Pelosi playbook where they will have to pass the bill before telling us what's in it. But that's not the GOP's only Pelosi-esque treatment of tax reform.
For example, the tax reform bill is supposed to reduce the number of tax brackets from seven to three with a top tax rate of 35 percent. However, Donald Trump's good friend and the owner of the New England Patriots, Robert Craft, has convinced Trump that the rich love to pay higher taxes and aren't interested in a cut.
Donald Trump: Bob Kraft Told Me to Cut Taxes for the Middle Class https://t.co/uYQRKaVpDa via @YouTube

— StridentConservative (@StridentConserv) October 26, 2017
So, with the help of Paul Ryan, Trump and the rest of the GOP are now looking at keeping the current top tax rate of 39.6 percent and using it to create a fourth bracket, specifically targeting the rich. This idea has been promoted by the administration in the past, and it's been a favorite of the class-warfare left.
"Once we get that budget resolution, that tells us how our numbers will work," @SpeakerRyan says on tax brackets pic.twitter.com/cANXP2GSWR

— CBS News (@CBSNews) October 20, 2017
The new tax plan is supposed to be focused on helping the middle-class, yet Rep. Kevin Brady is "working very closely with the president" to find a way to cash in on the 401(k) plans of middle-class America. Brady's plan enjoys the support of Senate Finance Committee Chairman Orrin Hatch and 401(k) plans have been targeted by the left for years.
There will be NO change to your 401(k). This has always been a great and popular middle class tax break that works, and it stays!

— Donald J. Trump (@realDonaldTrump) October 23, 2017
Even though Trump said otherwise a few days ago, he told reporters yesterday that 401(k) plans could be used as a "negotiating" tool in order to get his tax plan passed.
After a self-proclaimed "love fest" with Senate Republicans, Mitch McConnell said that Congress and the president are simpatico concerning the Trump agenda, which means they are working together on this mess to pass a Democrat tax plan.
The meeting with Republican Senators yesterday, outside of Flake and Corker, was a love fest with standing ovations and great ideas for USA!

— Donald J. Trump (@realDonaldTrump) October 25, 2017
Thank you @POTUS for joining the @SenateGOP & @SenJohnBarrasso for lunch this afternoon. We are all united to help Americans with #TaxReform pic.twitter.com/Pm1z4UHaMH

— Leader McConnell (@senatemajldr) October 24, 2017
Not exactly good news, is it?
Originally posted on The Strident Conservative.
David Leach is the owner of The Strident Conservative, your source for opinion that's politically-incorrect and always "right." His articles can also be found on RedState.com.
His daily radio commentary is nationally syndicated with Salem Radio Network and can be heard on stations across America.
Follow the Strident Conservative on Twitter and Facebook.
Subscribe to receive podcasts of radio commentaries:
iTunes | Stitcher | Tune In | RSS