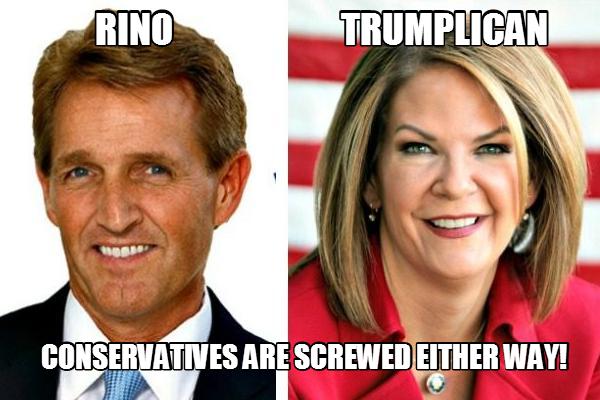 Faced with the binary choice created by the two-party monopoly of electing Donald Trump or Hillary Clinton as president in 2016, it became vitally important to elect as many conservatives to the House and Senate as possible in order to protect America and the Constitution.
Using this as motivation, I penned an article where I joined many of my conservative colleagues in calling for the retirement or primary defeat of John McCain (AZ). As a poster child for term limits, not to mention the self-proclaimed maverick's enshrinement in the Strident Conservative's Gutless On Principles (GOP) Hall of Shame, McCain had become the epitome of the Republican establishment.
Though I never offered an endorsement, I suggested that former Arizona State Senator Kelli Ward deserved consideration as a replacement for McCain based on her positions on several conservative issues. In hindsight, it appears that withholding my endorsement was the right call, as Ward is running once again—this time against Senator Jeff Flake.
As Trump continues attacking everyone who refuses to bow their knee to him, and as he re-brands the GOP into the Trumplican party, candidates running for office as "conservative" Republicans have taken to embracing all things Trump under the mistaken belief that his populist brand of politics is what defines conservatism today.
Kelli Ward is no exception to this approach. While she claims to be a conservative, her website reads "Kelli is a conservative champion who will stand with President Trump…" When you consider that Trump's agenda is proving to be anything but conservative, how can Ward promise to stand with the NY liberal and be a champion of conservatives?
I don't think it's possible; neither do former members of Ward's campaign staff.
On Tuesday this week, Ward's chief strategist, along with her press secretary, resigned from her campaign. In a statement released to the press, Dustin Stockton and Jennifer Lawrence "apologize(d) for propping up" Ward and for supporting her "blind ambition." According to the two former staffers, Ward has developed a reliance on the establishment's "political consultant class," and, as a result, she no longer appears to be a person who will "drain the swamp."
Maybe Ward is already standing with Trump. He doesn't want to drain the swamp either.
Leading up to the 2016 election, passengers on the Trump train assured conservatives that his recklessness and lack of any core conservative values could be reined in if we surround him with a band of conservatives. Unfortunately, as we have witnessed since the inauguration, the White House was seized by the Javanka (Jarred and Ivanka) Liberation Army where the few conservatives within the administration were taken hostage and forced to either embrace Donald Trump or be terminated. And it looks like Kelli Ward is ready to become an ally of the JLA to do her part.
As I've written before, conservatives are screwed in Arizona. Jeff Flake needs to go, but that doesn't mean that Kelli Ward is the person to replace him. What it does mean is that America needs a new party . . . NOW!
Originally posted on The Strident Conservative.
David Leach is the owner of The Strident Conservative, your source for opinion that's politically-incorrect and always "right." His articles can also be found on RedState.com.
His daily radio commentary is nationally syndicated with Salem Radio Network and can be heard on stations across America.
Follow the Strident Conservative on Twitter and Facebook.
Subscribe to receive podcasts of radio commentaries:
iTunes | Stitcher | Tune In | RSS