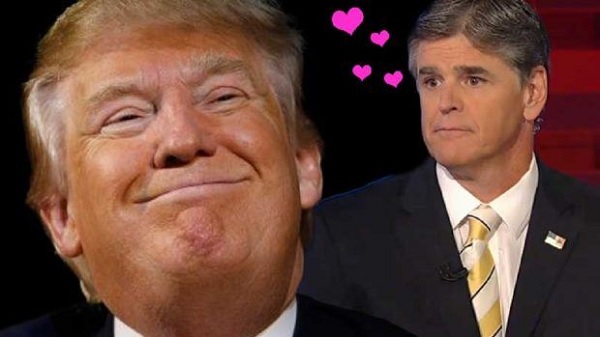 After doubling down on his threat to silence NBC and any other news outlets reporting stories that fail to please the Narcissist-in-Chief, Donald Trump took time away from his Twitter account long enough to grant an interview on a network he never threatens—the no longer fair and balanced FOX News. Conducting the interview was none other than Trump's favorite man-crush and chief propagandist on all things Trump, Sean Hannity.
The interview, which took place on a Pennsylvania Air National Guard base, was classic Trump. Some of the highlights—or should I say lowlights—included:
.@POTUS on why @TheDemocrats lost the presidential election: "It wasn't Russia. It was a bad candidate." #Hannity pic.twitter.com/S650g2G6zs

— Fox News (@FoxNews) October 12, 2017
Demonstrating his complete ignorance concerning the national debt by saying that the country's exploding deficits really don't matter as long as Wall Street continues to make lots of money.
.@POTUS: We're really increasing values & maybe, in a sense, we're reducing debt…We're very, very happy w/ what's happening on Wall Street pic.twitter.com/DfsCBQkAQX

— Fox News (@FoxNews) October 12, 2017
After after telling Hannity "

You can't disrespect our flag

," Trump

failed to honor the flag

during the playing of Retreat, the song played when lowering the flag at the end of the duty day on every military base. While military members in the audience, along with civilians, stood in honor of the flag, Trump continued talking as he made jokes about how the song was likely being played in honor of Hannity's TV ratings.
Trump sits, talks through song lowering the flag at military base amid NFL anthem controversy https://t.co/hgyaRkXa7I pic.twitter.com/gnNikoZMXL

— StridentConservative (@StridentConserv) October 13, 2017
Noticeably absent from the Trump and Hannity love fest was any discussion about the threats made against NBC and the so-called "Fake News" media. Not surprising, really, when you consider that Hannity has supported shutting down news outlets in the past for their refusal to kneel before Zod.
While certainly unbecoming of a so-called conservative, the word conservative no longer applies to Hannity. As we see in his response to a dispute between Senator Ben Sasse and Donald Trump, Hannity is a bonafide member of the Trumplican Party. In the aftermath of Trump's tweet threatening the First Amendment rights of the press, Sasse sent a tweet of his own, calling out the New York Liberal for his apparent failure to protect and defend the Constitution.
Mr. President:
Are you recanting of the Oath you took on Jan. 20 to preserve, protect, and defend the 1st Amendment? pic.twitter.com/XLB7QXM3bQ

— Ben Sasse (@BenSasse) October 12, 2017
And how did Hannity respond to this assault against his Master?
https://twitter.com/seanhannity/status/918304491027525632
Actually, Mr. Hannity, I'd say your sellout of conservative values in exchange for a seat at Trump's table is a much bigger mistake.
Originally posted on The Strident Conservative.

David Leach is the owner of The Strident Conservative, your source for opinion that's politically-incorrect and always "right." His articles can also be found on RedState.com.
His daily radio commentary is nationally syndicated with Salem Radio Network and can be heard on stations across America.