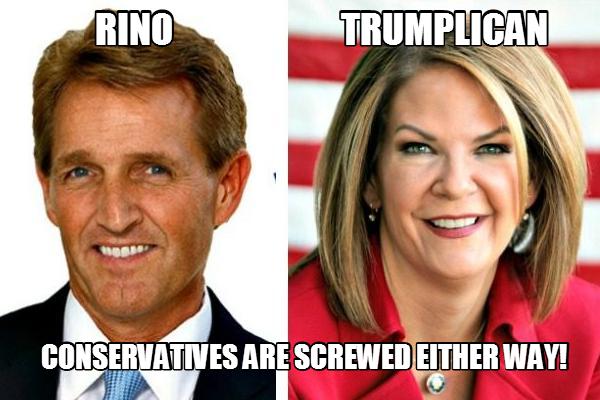 As the 2018 election season fully gets underway, conservatives aren't finding many areas of optimism, as we see in the US Senate race in Arizona for the seat currently held by Jeff Flake.
Flake is a man who truly lives up to his name since leaving the House of Representatives to successfully run for the Senate in 2012. His conservative credentials as a Congressman gave hope that he would bring some direction to the rudderless Senate captained by Mitch McConnell. Unfortunately, Flake succumbed to the GOP establishment, becoming just another face in the lineup of lying liars within the Republican party.
While I absolutely agree that the self-proclaimed conservative–he carries a failing score at Conservative Review–should be allowed to pursue a new career away from Washington, the Senate election in Arizona provides little hope that Flake's replacement, if he should lose, will be any better in the "conservative" department.
Running against Flake in the GOP primary is Dr. Kelly Ward, who ran an unsuccessful primary campaign against John McCain in 2016. While you'll find a plethora of conservative talking points on her website, Ward also states that she "will stand with President Trump and fight to make America great again." This commitment has earned Ward the endorsement of the New York liberal occupying the White house.
And this begs the question: Is Ward a conservative republican or is she a Trumplican? When her so-called conservative values inevitably collide with Trump's non-conservative values, will she do the right thing or will she do the Trumplican thing?
As my friend Daniel Horowitz recently wrote, the Trump revolution is over, and the GOP is broken beyond repair. Conservatives need to abandon that dumpster fire and chart a new path by growing the Federalist Party, advancing the Convention of States, and only elect Republicans who hold zero allegiance to their party. On this, I concur.
When Trump targeted Jeff Flake to be primaried a few months ago for having the audacity to say "no" to the Narcissist-in-Chief, I warned of how things might not turn out so well for the conservative cause. Just as we are witnessing in the Nevada GOP primary, how can it be said that it's better to replace a RINO with a Trumplican?
Either way, conservatives are screwed.
Originally posted at The Strident Conservative.
David Leach is the owner of The Strident Conservative, your source for opinion that's politically-incorrect and always "right." His articles are also featured on RedState.com.
His daily radio commentary is nationally syndicated with Salem Radio Network and can be heard on stations across America.