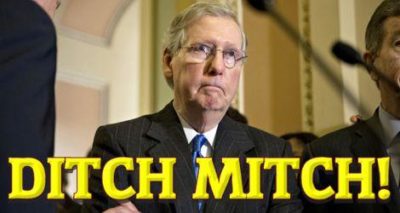 When Senate Majority Leader Mitch McConnell started his summer vacation with an interview criticizing Donald Trump for his "excessive expectations about how government works," he highlighted two well-known unpleasant facts: Donald Trump is highly unqualified for the job as president, and Mitch McConnell is equally unqualified for the job as the leader of the GOP.
In a way, McConnell and Trump are two sides of the same RINO coin. McConnell blames Trump and pretty much everyone but himself for his failure to do his job and for breaking his campaign promises. Likewise, Trump blames McConnell and pretty much everyone but himself for his failure to do his job and for breaking his campaign promises.
However, without the luxury of having Obama or Harry Reid to use as cover for his failures, McConnell's ineptitude might be finally catching up to him.
The Senate Conservatives Fund–a conservative group Mickey wants to crush–is leading an effort to remove the Kentucky senator from his cushy leadership position. In an email to supporters, they stated their case:
"Mitch McConnell is making excuses and blaming others while the Senate is on a month-long recess. The problem isn't that the president hasn't been in his job very long; it's that McConnell has been in his job for too long!"
SCF continues by pointing out that the Senate is currently in recess, making it the perfect time to let the GOP know that we need to "Ditch Mitch."
If Mitch McConnell's performance or lack thereof as GOP leader isn't enough reason for you to get involved, you should know that he is being defended by lying liars just like himself, such as Senator Jeff Flake (AZ) and Senator Orrin Hatch (UT).
"@SenateMajLdr has been the best leader we've had in my time in the Senate, through very tough challenges. I fully support him." -Hatch pic.twitter.com/3vD5nFgE36

— Senator Hatch Office (@senorrinhatch) August 10, 2017
High praise when you consider that Hatch has been in Washington since Charles Curtis was named the first Republican Majority Leader in 1925. OK, that's an exaggeration, but you get my point, right? The man has been in Washington too long.
Shortly after Hatch's tweet, Flake expressed his support for McConnell.
.@SenateMajLdr does a tough job well. He has my support.

— Jeff Flake (@JeffFlake) August 10, 2017
I have recently written articles exposing Senators Hatch and Flake as frauds for their McConnell-styled conservatism. Not surprisingly, they both enjoy the support of McConnell, and Hatch is endorsed by Trump.
I have opposed McConnell for years due to his pathetic non-conservative leadership (along with Paul Ryan and John Boehner before him in the House). It's bad enough that these charlatans broke every promise they ever made to conservatives, but the result of their lies and ineptitude created the environment that gave us Donald Trump.
Come to think of it, I oppose Trump, McConnell and Ryan for exactly the same reason: NONE OF THEM ARE CONSERVATIVE! And let me remind the Trump-cult that Donnie is just as responsible for the lackluster, non-conservative performance of the GOP as McConnell–a fact that even supporters like Newt Gingrich agree with.
Please take a moment to send your email to Senate Republicans to "Ditch Mitch!" using the link below. As we saw with John Boehner about two years ago, we can succeed if we apply enough pressure. And if we can replace Mickey with a conservative, we just might be able to rein in Trump before he completely destroys everything.
Tell Senate Republicans to replace Mitch McConnell NOW!
Originally posted at The Strident Conservative.
David Leach is the owner of The Strident Conservative, your source for opinion that's politically-incorrect and always "right." His articles are also featured on RedState.com.
His daily radio commentary is nationally syndicated with Salem Radio Network and can be heard on stations across America.