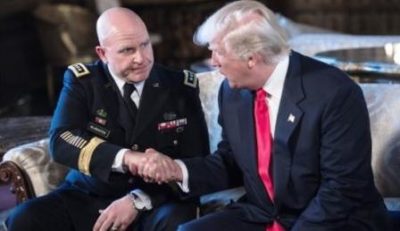 Recently, I had the privilege of being involved in an interview at a Denver, CO. radio station with Frank J. Gaffney, the Founder, President, and CEO of the Center for Security Policy, and a former Assistant Secretary of Defense under President Ronald Regan. Mr. Gaffney was there to discuss his effort to see H.R. McMaster terminated as Trump's National Security Advisor for "disloyal and subversive behavior."
Gaffney contended that McMaster has "openly opposed Mr. Trump on 'radical Islamic terrorism', Syria, Qatar, Iran, Russia, and the Muslim Brotherhood," and has been the force behind the purge of staff members loyal to the President. In addition, McMaster personally granted Obama's National Security Advisor, Susan Rice, continued access to top-secret information, despite her efforts to undermine the Trump campaign in 2016.
I support the #FireMcMaster effort for the reasons given by Mr. Gaffney, but I also feel McMaster should be terminated due to his open anti-Israel bias. McMaster considers the Jews an "occupying force" while at the same time, falsely insisting that a country called Palestine actually existed before the so-called Jewish occupation. This position by McMaster is likely the reason for Trump's Obama-esque handling of Israel so far in his administration.
Trump recently issued a statement of support for McMaster, so I'm not holding out much hope that the New York liberal will terminate his liberal National Security Advisory. And that begs the question . . . why? The answer to that question can be found in the word I used two times in the previous sentence: liberal.
Besides his long history of liberal-leaning politics, Trump has also surrounded himself with like-minded individuals including his family. And it's this motley crew who appear to be running the show within the White House.
For example, it has been well-documented about how Jared and Ivanka have had a hand in keeping some of Obama's liberal policies while at the same time being instrumental in the termination of Republicans within the Trump cabinet. Jared Kushner recently defended McMaster as a "true public servant."
As a lifelong Democrat lacking any core convictions, Trump is easily swayed in whatever way the wind may blow. Right now, the wind is blowing in favor of the liberal advisors Trump has surrounded himself with. And that means McMaster is safe . . . at least for now.
Originally posted at The Strident Conservative.
David Leach is the owner of The Strident Conservative, your source for opinion that's politically-incorrect and always "right." His articles are also featured on RedState.com.
His daily radio commentary is nationally syndicated with Salem Radio Network and can be heard on stations across America.