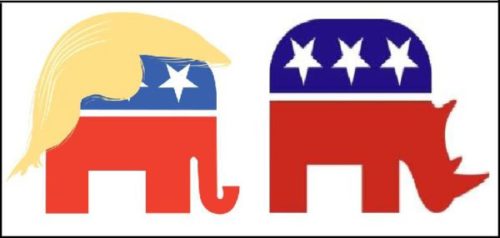 Yesterday, I wrote an article about how the collapse of the two-party monopoly controlled by Democrats and Republicans is giving rise to the creation of a new party designed to return America to Constitutional conservatism. In that piece, I explained how the party establishment was working to save their positions of power, and within the GOP, that work involves replacing the conservative agenda with Donald Trump's progressive, big government agenda.
As a result, the Republican Party continues its evolution to becoming the Trumplican Party. An unintended consequence of its evolution has been that establishment RINOs who refuse to bow at the altar of Trump will no longer enjoy the support and protection of party bosses.
One such RINO is Sen. Dean Heller (R-NV). It was recently announced that perennial candidate for political office, Danny Tarkanian–he has run unsuccessful campaigns going back to 2004–will primary Heller for the Republican nomination to represent the Silver State in the US Senate.
As I wrote back in April about Heller, he's the classic example of what the GOP has become. In a town hall meeting held at the time, Heller defended federal funding of Planned Parenthood after calling the right for women to murder their unborn children "the conservative position." I also pointed out how Heller's voting record included support for the Gang of Eight amnesty bill, Obama's unconstitutional executive amnesty for illegals, and big government spending.
Clearly, Heller needs to go! But is Tarkanian the guy to replace him? I don't think so. Tarkanian provides little to no improvement over Heller because he's running on only one issue:
"I have so many people that are contacting me over the past couple months saying 'you gotta run against Dean Heller.' They understand, as I do, that we're never going to make America great again unless we have senators in office that fully support President Trump and his America first agenda."
Nothing about the Constitution. No mention of conservatism, social values, or even a personal position on the many serious issues facing the country. Nope. He's pro-Trump. And that's all he needs to earn the right to replace Heller.
We should be on the lookout for more Trumplicans in the upcoming election season because the GOP, and even some conservatives, consider that to be better than Democrats. In reality, Trumplicans and RINOs are just as bad as Democrats, and it's further evidence of the inevitable demise of the Republican Party.
Originally posted at The Strident Conservative.
David Leach is the owner of The Strident Conservative, your source for opinion that's politically-incorrect and always "right." His articles are also featured on RedState.com.
His daily radio commentary is nationally syndicated with Salem Radio Network and can be heard on stations across America.