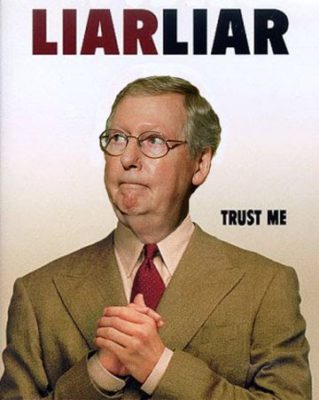 When Jeff Sessions was appointed as Attorney General, his Senate seat was filled by Luther Strange. At the time, Strange—who served as Alabama Attorney General—was investigating a scandal involving former Governor Robert Bentley who was facing felony charges for his attempt at covering up an extra-marital affair.
Even though Alabama law requires a special election to fill an open Senate seat, Bentley attempted to buy off Strange by giving him the special appointment.
Now that the current Governor Kay Ivey has scheduled the special election, Strange is now forced to defend his unearned seat in the Senate against two solid conservatives—Rep. Mo Brooks and former state Supreme Court Justice Roy Moore—both of whom are running against the face of RINO-establishmentarianism, Mitch McConnell.
Not surprisingly, Mickey opposes Brooks and Moore, as he has made "crushing" TEA Party and other conservative groups his primary goal as the leader of the Republicans.
And people wonder why he doesn't have time to repeal Obamacare
With the primary scheduled for August 15th, and with polls showing Strange trailing in the race, McConnell is pulling out all the stops in his effort to eliminate Brooks and Moore. A recent story reported that McConnell super PAC is ready to spend up to $8 million on Strange. McConnell is also pushing for help from Donald Trump—another anti-conservative Republican.
In Godfather fashion, McConnell has also issued warnings against any Republican consultants who do work for Brooks and/or Moore, informing them that they would be cut off from future GOP opportunities if they do so.
I still believe that conservatives no longer have a home within the Republican party and that we need a new party to make things right. However, in the meantime, we must fight for conservatives when we have the opportunity to do so.
Personally, I favor Roy Moore in the Alabama race. He's a man who has literally put his career on the line in the defense of Constitutional conservatism. Regardless of whether it's Moore or Brooks, Strange must be defeated. It will put one more conservative in Washington, and it will bring us one step closer to seeing Mitch McConnell booted as the Senate Majority Leader.
Originally posted at The Strident Conservative.
David Leach is the owner of The Strident Conservative, your source for opinion that's politically-incorrect and always "right." His articles are also featured on RedState.com.
His daily radio commentary is nationally syndicated with Salem Radio Network and can be heard on stations across America.