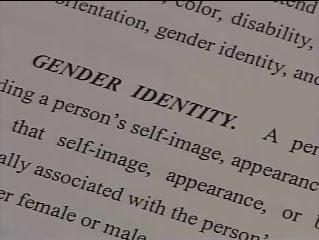 A recently approved "toolkit" issued by the Minnesota Department of Education outlining bathroom and locker room usage by so-called transgendered students, along with a recent policy announcement by the Trump administration, is serving to spread child abuse via the LGBT agenda. The toolkit also provides guidelines for punishing children with segregation and isolation if they object to sharing bathrooms and locker rooms with transgender students due to privacy concerns.
That's right, America, the same gay mafia that screams "discrimination" if you suggest the creation of special accommodations for mentally ill, sexually confused children are now advocating discrimination against any child who refuses to embrace the transgender lie.
Back in June, Trump rescinded an Obama rule that mandated bathroom and locker room access based on gender identity, Unfortunately, the order fell short of fixing the problem. In the joint memo issued by Attorney General Jeff Sessions and Education Secretary Betsy DeVos announcing the change, they left the door open to civil rights investigations for alleged "sex discrimination" and/or so-called "gender-based harassment."
And what is gender-based harassment? According to the memo, it includes: "refusing to use a transgender student's preferred name or pronoun," particularly if the refusal is "motivated by animus toward people who do not conform to sex stereotypes."
Just days following this new policy by the Trump administration, the Minnesota Department of Education released the "Safe and Supportive Schools for Transgender and Gender-Nonconforming Students" toolkit designed to provide schools with advice on how to interact and protect their mentally ill and sexually confused.
One of the many tools provided to help schools comply with this middle-of-the-road approach to the issue requires administrators to give transgender students whatever they want regarding bathroom and locker room access. If any student objects to this access over concerns for their right to privacy, the toolkit requires those students to be segregated and isolated—a likely violation of their constitutional rights—in order to avoid "stigmatizing" the transgender and/or gender nonconforming student.
"Schools should work with transgender and gender nonconforming students to ensure that they are able to access needed facilities in a manner that is safe, consistent with their gender identity and does not stigmatize them.

"Privacy objections raised by a student in interacting with a transgender or gender nonconforming student may be addressed by segregating the student raising the objection provided that the action of the school officials does not result in stigmatizing the transgender and gender nonconforming student."
While this new policy originated with the Minnesota Department of Education, the "moderate" position taken by Trump and the US Department of Education provided the impetus for their actions based on their lack of leadership.
No surprise, really. This is what you get when the man occupying the White House completely lacks any core convictions on the issue. Unfortunately, we aren't likely to see any "leadership" from Donald Trump any time soon to change that.
Originally posted at The Strident Conservative
David Leach is the owner of The Strident Conservative, your source for opinion that's politically-incorrect and always "right." His articles are also featured on RedState.com.
His daily radio commentary is nationally syndicated with Salem Radio Network and can be heard on stations across America