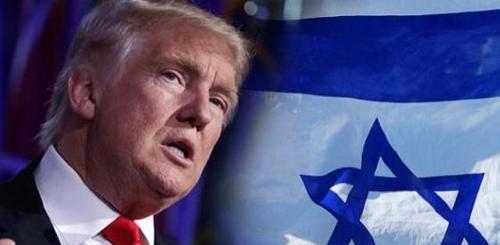 Just six months into his presidency, Trump has repeatedly displayed his ignorance of Middle East policy as he breaks one promise after another with the nation of Israel.
Back in May, Donald Trump took his first foreign trip as president of the United States, visiting Europe and Israel. One of the primary objectives of this trip was to begin a dialogue between Israel and the Palestinians in an effort to bring peace to the region.
In the days leading up to the trip, a senior Trump official released a statement declaring that the Western Wall—the wall of the Temple Mount, the holiest site in Judaism—did not belong to Israel. Following a brief dust-up over the absurd claim, National Security Advisor H.R. McMasters went on the record defending the statement. Trump also announced that he would be breaking his promise to move the US Embassy to Jerusalem.
During his meetings with Prime Minister Netanyahu and Palestinian Authority President Abbas, Trump applied pressure on Israel to accept an Obama-esque two-state solution—a policy Daniel Horowitz at Conservative Review refers to as the "Obamacare of foreign policy." Trump also applied pressure on our ally to begin trading land to the Palestinians for peace.
At the recent G-20 meetings, Trump advanced another policy unfavorable to Israel with his announcement that he had negotiated a ceasefire in Syria between the US and Russia.
…We negotiated a ceasefire in parts of Syria which will save lives. Now it is time to move forward in working constructively with Russia!

— Donald J. Trump (@realDonaldTrump) July 9, 2017
Clearly intended as a way to cement his bromance with Vladimir Putin, the ceasefire endangers Israel's security, so much so that Trump put Netanyahu in the uncomfortable position of rejecting the agreement in order to protect Israel's national security. As the Israeli Prime Minister pointed out, the ceasefire strengthens Iran's presence in the region which is an unacceptable consequence due to Iran's stated desire to see Israel "wiped off the face of the earth."
This week, Rex Tillerson's State Department—Tillerson is also an advocate of the two-state solution—released its annual report on terrorism trends stating:
"Israeli settlement construction in the West Bank, settler violence against Palestinians in the West Bank, the perception that the Israeli government was changing the status quo on the Haram Al Sharif/Temple Mount, and IDF tactics that the Palestinians considered overly aggressive," are to blame to for Palestinian terrorism, according to the State Department's annual report on terrorism trends.
Trump once claimed that he is "Israel's biggest friend." Well, as the old saying goes . . . with friends like this, you don't need any enemies.
Originally posted at The Strident Conservative
David Leach is the owner of The Strident Conservative, your source for opinion that's politically-incorrect and always "right." His articles are also featured on RedState.com.
His daily radio commentary is nationally syndicated with Salem Radio Network and can be heard on stations across America