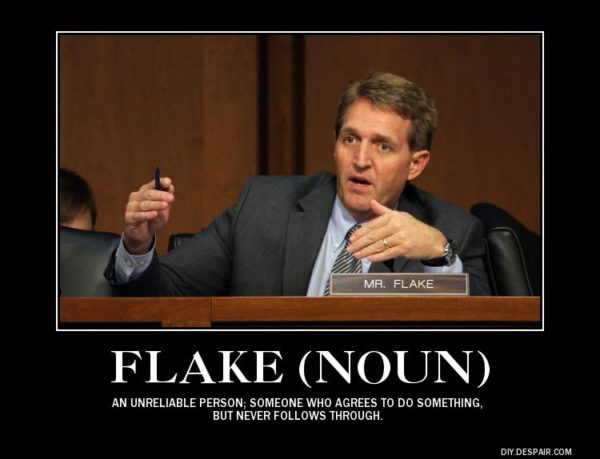 In a recent story at Politico.com, it was reported that Donald Trump is actively working to find a challenger to Senator Jeff Flake (R-AZ)–a Top 25 RINO–in the 2018 Republican primaries.
While Flake deserves to be booted from his cushy seat in the US Senate, it would be wise for conservatives to be careful what they wish for. For instance, Arizona voters should consider Trump's motivation for targeting Flake. Is it because the Arizona senator isn't conservative enough?
Okay . . . stupid question. Of course not.
Trump boasted during his campaign about his lack of conservative values and how they are unnecessary. In addition, since becoming president, he has openly threatened conservatives in the House with primary challengers because they refused to support the fake-repeal of Obamacare.
So, what then is Trump's motivation for opposing Flake? As we saw with his threats against members of the House, and have witnessed in his unpopular Twitter rants, Trump only attacks those who oppose him. As a man lacking any core convictions, he really isn't concerned about the convictions of others.
For the record, I agree that Flake should be replaced because he is true to his name, which according to the dictionary is "an unreliable person; someone who agrees to do something, but never follows through." But as we learned in 2016 from the "not Hillary" crowd that put Trump in the White House, selecting someone simply because he/she is "not Flake" could result in some unpleasant, unintended consequences.
Here's an example of what I'm talking about.
One candidate being considered by Trump is Dr. Kelli Ward, who ran an unsuccessful primary challenge against John McCain last year. While she has plenty of conservative-sounding talking points on her website, Ward's home page reads "Kelli is a conservative champion who will stand with President Trump and fight to make Arizona great again."
With Trump's track record proving that his agenda is often at odds with conservatism, can conservatives count on Ward to do the right thing when conservatism and Trumpism collide?
As I wrote yesterday, Trump and the GOP are who we thought they were when it comes to not doing the right thing. That means that even though I support replacing Jeff Flake, I don't support replacing him with a Trump "yes-man" . . . or "yes-woman" (for all the snowflakes who might be reading).
Originally posted at The Strident Conservative
David Leach is the owner of The Strident Conservative, your source for opinion that's politically-incorrect and always "right." His articles are also featured on RedState.com.
His daily radio commentary is nationally syndicated with Salem Radio Network and can be heard on stations across America