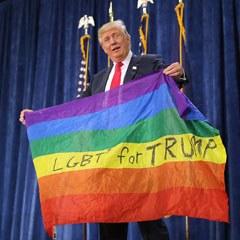 The state of Oregon recently made news by becoming the first state to allow residents a third gender option on their driver's license or state identification. While this decision to allow gender-science deniers the ability to identify as neither male or female is being hailed as evidence of Oregon's aggressive leadership, they may find themselves playing catch-up by the time Trump is through.
Many LGBT groups considered Trump to be "the most pro-LGBT candidate" to ever be nominated by the GOP—a title he gleefully embraced during the Republican National Convention. In his acceptance speech, Trump told the crowd, "As your president, I will do everything in my power to protect LGBTQ citizens."
One of his first actions as president, taken even before his nothing-burger executive order that supposedly protects religious liberty, Trump—actually Ivanka—reaffirmed an executive order first issued by Obama that required government contractors to embrace the LGBT agenda or lose their right to do business with the federal government.
June is so-called Gay Pride month, and while Trump himself has made no official statements supporting the occasion, Secretary of State Rex Tillerson and Ivanka have. Not to worry, though, Trump has been working on things behind the scenes.
In a June 6 memo, obtained by the Washington Post, the Department of Education's Office of Civil Rights instructed its lawyers and investigators to begin investigating discrimination complaints by so-called trans-gender students. Included in the guidelines is a requirement to investigate complaints where trans-gendered students feel they are being treated differently based on sex stereotypes (masculine vs. feminine).
Attorney General Jeff Sessions and Secretary of Education Betsy DeVos have supposedly reversed Obama's bathroom directive that allows students to use bathrooms and showers based on gender identity. However, under this new directive from the Office of Civil Rights (OCR), the issue has now been "green lighted" by allowing a "case by case" review of such complaints.
"The presumption here should be it's business as usual," the employee told the Post, "and not that OCR is abdicating its role as a protector of civil rights for transgender students."
And this:
Anurima Bhargava, who served in the Obama administration's Justice Department and believes transgender students have a right to use bathrooms that match their gender identity, agreed that the memo is written in a way that gives federal officials room to pursue complaints from students who are denied bathroom access. "It is saying proceed in accordance with the law, and the law is moving in the right direction," Bhargava said.
Children have become collateral damage in the LGBT culture war waged against Christianity and traditional family values. With Trump as a reliable ally to the LGBT cause, states like Oregon will have some catching up to do.
I close with this thought from Scripture to those in government, at every level, who continue to buy into the fake science of trans-genderism: "It would be better for them to be thrown into the sea with a millstone tied around their neck than to cause one of these little ones to stumble." (Luke 17:2)
Originally posted at The Strident Conservative
David Leach is the owner of The Strident Conservative, your source for opinion that's politically-incorrect and always "right." His articles are also featured on RedState.com.
His daily radio commentary is nationally syndicated with Salem Radio Network and can be heard on stations across America