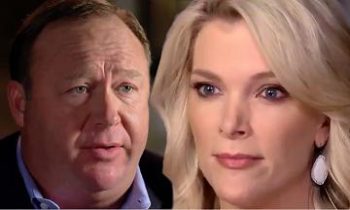 On her upcoming Sunday night show, broadcast on NBC, Megyn Kelly is scheduled to interview the controversial nationally syndicated talk-show host, Alex Jones. Jones is considered controversial due to his reputation as a conspiracy theorist.
Jones has claimed that 9-11 was an inside job, that the Sandy Hook massacre may have been a hoax, and that the government is deliberately creating homosexuals by reducing the birth rate through the use of estrogen-mimicking chemicals placed in kids' juice boxes.
Kelly is taking a lot of heat for giving Jones the spotlight on her prime-time show, Sunday Night with Megyn Kelly, but not only because Jones is a conspiracy theorist. Kelly is taking heat because Jones is a conspiracy theorist with close connections to Donald Trump. And while there are those on the left and the right who think the interview shouldn't be aired due to this fact, I believe that's exactly why it should be broadcast.
Sunday Night with Megyn Kelly is a news show, or at least that's what she calls it. As such, Kelly is free to run things as she sees fit. Journalists often interview controversial personalities. That doesn't mean that the interviewer agrees or disagrees with the interviewee. If Kelly shows an unfair bias one way or the other, or if she uses the opportunity to advance an agenda—and she probably will—it's her right to do so. Just as it is your right and my right to decide whether or not to watch.
For the record, I think in a day and age where a certain government figure often complains about fake news, finding out more about Alex Jones and InfoWars.com—a site caught spreading fake news—is a good thing. This is particularly true when you consider Jones' easy access to the White House.
Whether you follow Megyn Kelly or Alex Jones is a moot point. Whether you agree or disagree with them is also moot. And calling on NBC to cancel the show is unwarranted, is unfair, and dare I say is un-American.
NBC must let the show go on and let the chips fall where they may.
Originally posted at The Strident Conservative
David Leach is the owner of The Strident Conservative, your source for opinion that's politically-incorrect and always "right." His articles are also featured on RedState.com.
His daily radio commentary is nationally syndicated with Salem Radio Network and can be heard on stations across America