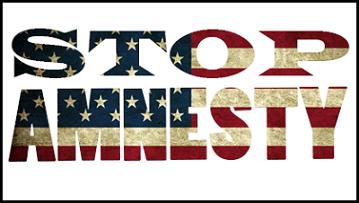 In my commentary yesterday, I shared how Trump is continuing to enforce Barack Obama's Deferred Action for Childhood Arrivals (DACA) executive order, a decision that makes it possible for hundreds of thousands of illegals to stay in the country indefinitely. Trump buried this little tidbit beneath the Comey hysteria that took place last week.
Also buried last week was Homeland Security Secretary John F. Kelly's testimony before the House Homeland Security Committee where he confirmed Trump's intention to keep Obama's order in force in order to prevent the deportation of up to one million illegal immigrants. While he essentially added another item to the growing list of Trump's broken promises, Kelly's testimony exposed some troubling details behind why the administration is continuing to enforce Obama's lawless executive order.
Donald Trump loves to "pass the buck" and blame others for his failures, and Kelly's testimony proved this fact when he testified about how Trump was unable to overturn Obama's executive order because Congress hasn't granted amnesty to the hundreds of thousands of DREAMers.
Yep, you read that right.
According to the Administration, overturning DACA would result in the deportation of these illegals, and since Trump has officially committed to keeping them in the country, he is calling on Congress to grant them permanent legal status. And he's using the absence of that legal status as an excuse to keep DACA in effect.
Of course, it's not true to say that Trump "can't" overturn Obama's executive order; it's just that he won't. Even Kelly admitted in his testimony that a future president would be able to do what Trump apparently lacks the conviction to do. What is true is that candidate Trump promised to repeal DACA, but President Trump refuses to do so.
In other words, he lied. And now he's looking to blame others for the bad stuff coming down the road now that his lie is out in the open. Sadly, with McConnell and Ryan running Congress, it's looking pretty good that Trump will get the amnesty he's seeking for these DREAMers.
Originally posted at The Strident Conservative
David Leach is the owner of The Strident Conservative, your source for opinion that's politically-incorrect and always "right." His articles are also featured on RedState.com.
His daily radio commentary is nationally syndicated with Salem Radio Network and can be heard on stations across America