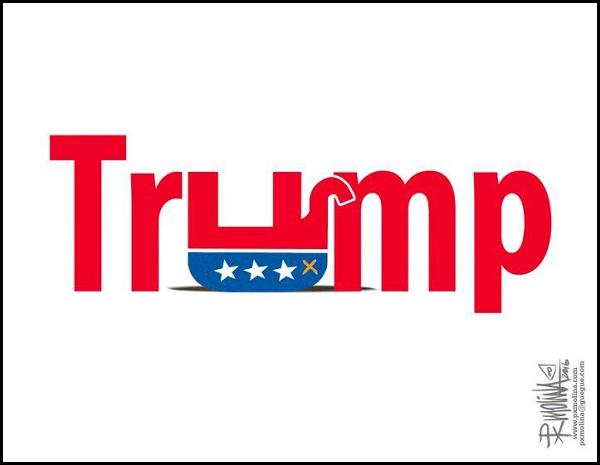 According to a new Gallup poll, the Democrat party now enjoys a seven percentage points lead in party affiliation over the Republican party—the largest it has been in over two years. However, this growing advantage isn't due to an increase in Democrat affiliation, rather it is the result of a noticeable decline in Republican affiliation.
With Congress only seven weeks away from taking the month of August off in yet another recess—believe it or not, they have only worked 50% of the time since the new Congress began in January—and with the mid-term election season beginning when they return, this apparent shift in party affiliation doesn't bode well for the GOP.
Traditionally, mid-term elections are tough for the party occupying the White House, but when you add the part-time, GOP-controlled Congress' inability or unwillingness to keep their campaign promises, Trump's low job approval rating, and how low ratings have historically impacted mid-term elections, we could be looking at House Speaker Nancy Pelosi and Senate Majority Leader Chuck Schumer after next year's elections.
This non-existent leadership by Trump and his swamp buddies in Congress isn't really a surprise. Mitch McConnell and Paul Ryan have established a long track record to caving to Democrat demands. And heck, Donald Trump is a Democrat.
While this performance by the GOP is disappointing, their ineptitude has resulted in a new movement—away from the Washington establishment's binary choice every two years and toward the creation of a new party.
Before bowing at the altar of Trump on his way to a cushy job leading the department he once said should be eliminated, Department of Energy Secretary Rick Perry warned that Trump would destroy the GOP. While I would like to see that happen, I don't want the Republican party destroyed only to be replaced with the Trumplican party.
What I do want to see the Republican party replaced with people who believe in Constitutional Conservatism. Apparently, based on the decline of Republican affiliation reflected on this latest poll, I'm not alone in that regard.
Originally posted at The Strident Conservative
David Leach is the owner of The Strident Conservative, your source for opinion that's politically-incorrect and always "right." His articles are also featured on RedState.com.
His daily radio commentary is nationally syndicated with Salem Radio Network and can be heard on stations across America