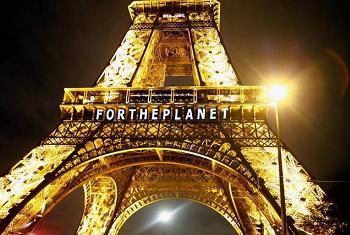 Earlier this month, I wrote a piece about how Ivanka Trump was actively advancing Al Gore's global warming agenda within the administration and how Daddy had given her free rein to do as she pleases to accomplish that goal.
A few days after writing that piece, America took a step in Ivanka's direction when Secretary of State, Rex Tillerson—himself a global warming disciple—signed the Fairbanks Declaration, an international agreement that identifies global warming as a man-caused phenomenon. It also reinforced the Paris Agreement on so-called climate change and endorsed its implementation.
Since returning from his recent tour of the Middle East and Europe, Trump has been less than forthright about his campaign promise to withdraw the United States from the Paris Agreement. In fact, Trump's ambiguity concerning his promise caused a bit of nervousness with our G-7 allies, but I don't think they have anything to worry about. Here's why . . .
Besides Daddy's precious, Trump is hearing from a batch of voices telling him to keep the United States in the Paris Agreement. For example, in the days leading up to Trump's trip, National Economic Council Director and White House advisor, Gary Cohn, laid the groundwork for Trump's likely capitulation on global warming and the Paris Agreement.
"He knows that in the US there's very strong opinions on both sides, but he also knows that Paris has important meaning to many of the European leaders, and he wants to clearly hear what the European leaders have to say."
And now we could be witnessing a new less conspicuous global warming voice whispering in Trump's ear—his wife, Melania. While in Europe, Trump and his wife met with Pope Francis where we learned that Melania is a Catholic. During their meeting, the Pope gifted the Trumps with a copy of his encyclical on so-called climate change and its harmful effects on the poor, apparently unaware that Trump doesn't read and only knows what he hears on FOX News and Sean Hannity.
Could Melania's bold declaration of faith be the final nail in the coffin pressuring Trump to cave on the Paris Agreement issue? When you add it to the chorus of voices we already have in Ivanka, Rex Tillerson, and Gary Cohn, the odds appear that's exactly what's going to happen.
UPDATE: Since publishing this piece, an "unnamed source" (I thought Trump said those are bad) is telling Axios that Trump will pull the U.S. out of the Agreement. Meanwhile, Trump sent this out on Twitter since the Axios report.
I will be announcing my decision on the Paris Accord over the next few days. MAKE AMERICA GREAT AGAIN!

— Donald J. Trump (@realDonaldTrump) May 31, 2017
Originally posted at The Strident Conservative
David Leach is the owner of The Strident Conservative, your source for opinion that's politically-incorrect and always "right." His articles are also featured on RedState.com.
His daily radio commentary is nationally syndicated with Salem Radio Network and can be heard on stations across America