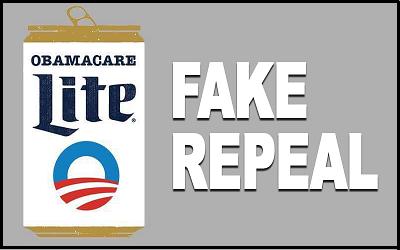 One fact that has become crystal clear ever since voters gave the GOP complete control of Washington is this: they are nothing more than a parade of pachyderms existing only to serve their own political self-interests. For Republicans, campaign promises are simply currency used to buy votes and fill the campaign coffers of faux-conservatives.
Nowhere has this reality been more self-evident than when it comes to repealing Obamacare.
Earlier this month, the House of Representatives passed the American Health Care Act (AHCA). This fake-repeal of Obamacare—A.K.A. Ryancare, Trumpcare, or RINOcare—only provides a "potential" repeal of about 20% of the Affordable Care Act while maintaining the expansion of Medicaid and government subsidies. And in terms of the market-busting regulations existing under Obamacare, the AHCA keeps every one of them in place.
Part of the 20% that would be potentially repealed under the House bill is the individual mandate, which requires everyone to buy insurance or pay a fine. Or, as John Roberts would call it—a tax. But now that the ball's in the GOP-controlled Senate's court—and if there's a place needing balls, it's the GOP—even this small victory is now in jeopardy.
According to Senator John Hoeven (R-ND), a member of a Senate working group drafting its own healthcare bill, Obamacare's individual mandate isn't going anywhere anytime soon. In fact, it looks like it will continue until 2020 or later, which coincidentally, kicks the can down the road until the next presidential election.
This type of cowardice is A-Okay with Senate Finance Committee Chairman, Orrin Hatch (R-UT), who said, "I don't mind the individual mandate being expanded." The bottom line, according to the Utah senator, "It all comes down to the doable."
He wasn't enshrined in the Gutless on Principles Hall of Shame for nothing, folks.
In the end, it will eventually have a different name, but Obamacare is here to stay, and we have Donald Trump, Mitch McConnell, and Paul Ryan to thank for that.
Originally posted at The Strident Conservative
David Leach is the owner of The Strident Conservative, your source for opinion that's politically-incorrect and always "right." His articles are also featured on RedState.com.
His daily radio commentary is nationally syndicated with Salem Radio Network and can be heard on stations across America.