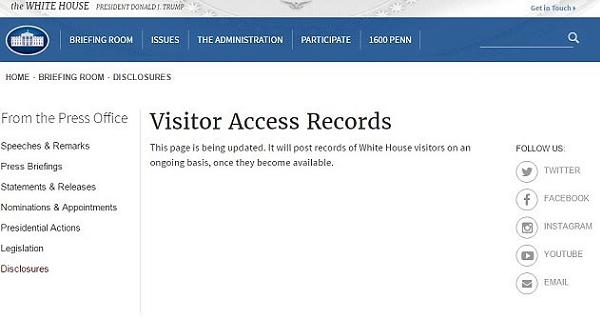 During Donald Trump's transition period between the November election and his inauguration, former Republican National Committee spokesman and the current White House Press Secretary Sean Spicer praised Trump during a CNN interview for being transparent, despite Trump's hiding from the media and continuing with his refusal to release his tax returns. In addition, Spicer defended Trump's decision to allow his daughter, Ivanka, and her husband, Jared Kushner, to be a part of the transition team, despite their extreme liberalism and the ethical conflicts their participation created.
"Conflicts of interests arise when you're sneaky about it, when you're sneaky about it. If you tell everyone here's what's going on, here's the process, here's the people who are playing a role, that's being transparent."
Spicer also stated how the government had developed a reputation of being "shady about (its) roles, hiding things, not releasing things" and how Trump's level of transparency "has exceeded any modern president."
Well, I can't wait to hear what Spicer has to say following Trump's decision not to release the White House visitor logs until he's been out of office for at least five years.
In a piece at Conservative Review, we learn about Trump's hypocrisy following this decision; he repeatedly chastised Obama for his lack of transparency during the 2012 election season:
Why is @BarackObama spending millions to try and hide his records? He is the least transparent President–ever–and he ran on transparency.

— Donald J. Trump (@realDonaldTrump) June 6, 2012
For the sake of transparency, @BarackObama should release all his college applications and transcripts–both from Occidental and Columbia.

— Donald J. Trump (@realDonaldTrump) July 17, 2012
Since @BarackObama is on such a "transparency" kick–how about releasing Fast & Furious info to Brian Terry's family?http://t.co/dAFnZBvA

— Donald J. Trump (@realDonaldTrump) July 19, 2012
In the spirit of transparency, Obama should immediately release the 9.11 tape of Tyrone Woods pleading for military support in Benghazi.

— Donald J. Trump (@realDonaldTrump) October 31, 2012
A lot of undecided and independent voters have had enough with Obama's lack of transparency. I don't blame them.

— Donald J. Trump (@realDonaldTrump) October 31, 2012
By the way, Obama regularly published the White House visitor logs.
Of course, in a week where Trump endeavored to make capitulation a virtue—he flipped on four campaign promises in one day—his decision should come as no surprise. However, it should concern every American, even the drinkers of the orange Kool-Aid.
Trump has given unprecedented power to Jared and Ivanka concerning the administration's policies. Besides Jared's complete lack of qualifications, Ivanka has been holding secret meetings with liberal groups such as Planned Parenthood. How many more meetings of this type will take place now that The Donald has decided that he's no longer concerned about being accountable to the American people?
By the way, Trump's record-setting number of golf outings at Mar-a-Lago are creating another transparency issue for the New York Liberal—the so-called "Southern White House" doesn't keep visitor logs. This is a clear national security risk, particularly when you consider Trump's insistence of conducting business there.
Although, I guess it wouldn't matter; he wouldn't let us see the logs anyway.
Originally posted at The Strident Conservative
David Leach is the owner of The Strident Conservative, your source for opinion that's politically-incorrect and always "right." His articles are also featured on RedState.com.
His daily radio commentary is nationally syndicated with Salem Radio Network and can be heard on stations across America.