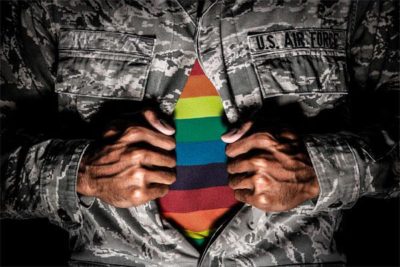 Following the announcement that Colonel Kristen Goodwin has been selected to become the next commandant of the US Air Force Academy, the institution is about to become the latest casualty in the culture war launched by the Gay Mafia against traditional morality and Christianity in America. Colonel Goodwin is openly homosexual and has a so-called "wife," along with two children. She will assume command of the Academy pending approval by the Senate.
Already nominated for a promotion to the rank of brigadier general by Obama, a necessary step to becoming the leader of our sons and daughters—or those who identify as such—Goodwin is considered the culmination of Obama's politically correct pro-LGBT social experiment for the military.
While the implications of this announcement remain to be seen, the threat it poses to religious liberty for Christians in the Air Force is crystal clear. One need look no further than the recent case of Colonel Michael Madrid, a Christian with 26 years of impeccable service, who is being punished for his belief that marriage is between one man and one woman.
Additional evidence of the threat Goodwin poses to the religious liberty of Air Force troops comes to us courtesy of Mikey Weinstein, a former Air Force officer and current anti-Christian activist. Last year, I wrote how Weinstein's pro-LGBT group incorrectly named the Military Religious Freedom Foundation prevented retired Lieutenant General Jerry Boykin from speaking at a prayer breakfast at Fort Riley Army Base in Kansas because he held a biblical view about homosexuality.
Weinstein is upset that Goodwin's lesbianism hasn't been promoted alongside her new job, and he believes the decision not to do so harms the LGBT agenda.
Air Force Academy alumnus and former Navy Chaplain Gordon Klingenschmitt has witnessed how situations like this have turned out in the past, and he's urging concerned citizens to call their senators to oppose Goodwin's nomination. He is also concerned about the numerous open positions within the new Trump administration, particularly in the State Department and Department of Defense. With these open positions filled, Klingenschmitt is hopeful that "…Mr. Trump … will correct this mistake."
Speaking of Mr. Trump, he has the authority as Commander-in-Chief to make a difference in the Goodwin situation, but with his stated commitment to the LGBT agenda, I'm not going to hold my breath that he will.
Originally posted at The Strident Conservative
David Leach is the owner of The Strident Conservative, your source for opinion that's politically-incorrect and always "right." His articles are also featured on RedState.com.
His daily radio commentary is nationally syndicated with Salem Radio Network and can be heard on stations across America.