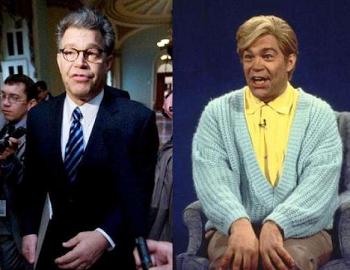 Yesterday was day one of the Senate confirmation hearing for Donald Trump's nominee to the Supreme Court, Neil Gorsuch. And while the usual good cop/bad cop rhetoric was displayed by Republicans and Democrats during their opening statements, Senator Al Franken served as Exhibit A on what's wrong with the loons on the left when it comes to the courts and the Constitution.
By the way, did you know that the Common Loon is the state bird and that Al Franken is the senator of Minnesota, the second most liberal state in the country?
Coincidence? I think not.
When he was a cast member on Saturday Night Live, Franken often portrayed a character known as Stuart Smalley who hosted a self-help program called, Daily Affirmations with Stuart Smalley.
In his opening remarks, Franken donned his Stuart Smalley persona by telling Gorsuch that he may be "good enough," and "smart enough" to sit on the Supreme Court, but that people might not like him all that much if his rulings resemble Antonin Scalia's. Gorsuch is frequently compared to Scalia concerning his judicial philosophy.
And what is it that Franken finds so troubling? He thinks Scalia was just too darned "rigid" in his view of the Constitution, and that Gorsuch might be as well.
"Justice Scalia embraced a rigid view of our Constitution, a view blind to the equal dignity of LGBT people, and hostile to women's reproductive rights, and often refused to acknowledge the lingering animus in laws and policies that perpetuate the racial divide."
Yeah, it can be pretty inconvenient when the Constitution gets in the way of the loony agenda of the left.
For too long, the judiciary has been treated as an extension of political agendas from both Republicans and Democrats–a point Gorsuch made in his opening remarks–and the result has been the kind of judicial tyranny Thomas Jefferson once warned about.
I'm still not sold on Gorsuch because we've been burned so often in the past by so-called conservative justices. I find it next-to-impossible to get comfortable with a nominee possessing a paper trail as sparse as Gorsuch's. But if we can begin selecting justices who are "rigid" concerning the Constitution, maybe we can fix that.
Originally posted at The Strident Conservative

David Leach is the owner of The Strident Conservative, your source for opinion that's politically-incorrect and always "right." His articles can also be found on RedState.com.
His daily radio commentary is nationally syndicated with Salem Radio Network and can be heard on stations across America.