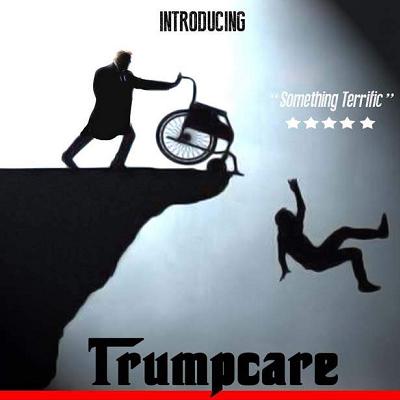 Town halls were filled to capacity with frustrated taxpayers demanding changes to the health care system as members of Congress stood before their constituents in a vain attempt to defend their massive government-run solution to the problem. The meetings were heated with shouts of "do you job" directed the feckless politicians.
Often, the politicians replied with accusations of their own leveled at the people they are sworn to serve, such as these ironic words from a representative in Texas, "I understand why you're so frustrated. You don't know how to listen."
Yeah, passing Obamacare was a sad period in American history.
Unfortunately, the events I just described didn't happen in 2009; they happened this past weekend. And the legislation in question wasn't Obamacare; it was Ryancare/Trumpcare. And the person accusing his constituents of being too stupid to listen was Representative Pete Sessions.
The Repeal-in-Name-Only Republicans spent a great deal of time over the weekend defending Obamacare 2.0. Paul Ryan appeared on the Sunday talk shows defending the legislation—scheduled for a Thursday vote in the House—while being sure to give credit where credit is due.
"I feel very good about it, actually. The reason I feel so good about this is because the President has become a great closer. He's the one who has helped negotiate changes to this bill with members from all over our caucus."
Ah, yes. The President. Despite efforts by many so-called conservatives to put the blame fully on Ryan, this new version of Obamacare is all on Trump. He was actively involved in creating it, and he supports it "1000 %."
Also making the rounds on the Sunday talk shows, HHS Secretary Tom Price stated that Trump never intended to fully repeal Obamacare: "That is not something that the President is willing to do. It's not something that he said he would do."
Besides the fact that the Trump campaign promised to fully repeal Obamacare on day one, he also promised that his replacement would provide "insurance to everybody"—at government expense if necessary. So, know this: the American Health Care Act is nothing but a warmed-over substitute for government-run health care.
The Republicans—or should I say the Trumplicans—are working to finish the job begun by Obama. But because it now bears the name of Trump, we're supposed to rejoice.
May God have mercy on us all.
Originally posted at The Strident Conservative

David Leach is the owner of The Strident Conservative, your source for opinion that's politically-incorrect and always "right." His articles can also be found on RedState.com.
His daily radio commentary is nationally syndicated with Salem Radio Network and can be heard on stations across America.