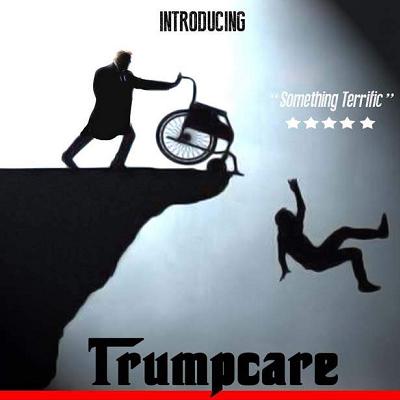 In the aftermath of massive resistance to Ryancare/Trumpcare by conservatives in the House Freedom Caucus and the three conservative Musketeers in the Senate—Mike Lee, Rand Paul, and Ted Cruz—Donald Trump spent a lot of time yesterday defending the legislation that Kellyanne Conway says he" husbanded" through Congress.
Following his declarations of support for the Affordable Health Care Act—it even sounds like Obamacare, i.e., the Affordable Care Act—the man behind the book The Art of the Deal moved into "sell mode" as he met with leaders from several grass-roots conservative groups. In addition, Trump also broke bread with Ted and Heidi Cruz at the White House to discuss his "wonderful new health care bill."
Now, such intimidation tactics, I'm sorry . . . negotiations . . . are being called standard operating procedure for such legislation. But so-called negotiations of this type usually take place with the opposition party. Trump is a Republican, so he would be negotiating with Democrats. Right? Wait a minute. I figured it out. Trump's not a conservative, so I guess if he's meeting with conservatives, he is meeting with the opposition party, isn't he?
Never mind.
Of course, the Trump team was out in force yesterday doing a bit of proactive damage control. HHS Secretary Tom Price admitted that the AHCA is incomplete and will need additional tweaks in the near future because this is a three-phase strategy. Just a guess, but I think the chances are pretty good that the next two phases will occur in 2018 and 2020—the next two election cycles.
Press Secretary Sean Spicer took an interesting approach to defending AHCA. One of the necessary steps to passing legislation is to have the Congressional Budget Office produce an independent analyses of the budgetary and economic implications a bill will have on the Congressional budget process. Before the CBO report is even completed, Spicer is dismissing it, calling into question the yet-to-be-disclosed information.
Another cheerleader making the rounds in Spin City on behalf of Ryancare/Trumpcare was Kellyanne Conway. In an interview in Faux News, Conway admitted that the bill needs additional negotiations, even though, as she said, it "repeals and replaces Obamacare simultaneously," which if it did so would need no negotiations. Conway then offered an interesting conclusion to her interview when she stated that the AHCA shouldn't be called Trumpcare because Trump never said he wanted his name on it.
And as we all know, Trump never puts his name on his work, does he? Unless it's Trump Enterprises, Trump Tower, Trump Steaks, Trump Magazine, Trump Airlines, Trump University, Trump Winery, Trump Water, or any of the other 268 businesses that bear his name.
Maybe the reason Trump doesn't want his name on the AHCA is because he knows what we all know . . . it's a disaster.
Originally posted at The Strident Conservative

David Leach is the owner of The Strident Conservative, your source for opinion that's politically-incorrect and always "right." His articles can also be found on RedState.com.
His daily radio commentary is nationally syndicated with Salem Radio Network and can be heard on stations across America.