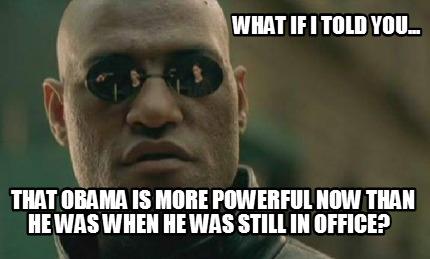 As Barack Obama waved goodbye to the White House, he warned America—I'm sorry, promised America—that he would "be right there with (us) every step of the way," as he committed himself to staying involved in Washington.
His decision not to return home is unusual for an ex-president, although to be fair, maybe he's not sure where home is. Hawaii? Chicago? Kenya? But it also serves as a warning that he is fully prepared to do all he can to advance his radical agenda. Including the creation of a "shadow government."
Evidence of Obama's determination to remain in the center of the political fray has taken many forms. It began a few weeks before leaving office when he vastly expanded the powers of the NSA to gather information. He also relaxed the rules governing how the agency could use any information they gathered. It is believed that these actions allowed Obama loyalists within the intelligence agency to take down General Mike Flynn, leading to his resignation as the National Security Advisor.
Since leaving office, Barry has formed a partnership with his gun-running buddy, the former Attorney General of the United States, Eric Holder, called The National Democratic Redistricting Committee. Their goal is to get enough Democrats elected at the state and local levels over the next few years to gerrymander congressional districts when redistricting takes place in 2020.
The community organizer has also expanded Organizing for America into over 250 offices nation-wide solely dedicated to protecting Obama's legacy.
Now we have learned that Obama has completed the trifecta of party control with the election over the weekend of his former Secretary of Labor Tom Perez as the new chair of the Democratic National Committee. You may recall that Perez worked for the Department of Justice under Eric Holder and was involved in the DOJ's scandalous decision to drop the voter intimidation lawsuit against the Black Panthers following an incident that took place during the 2008 election.
Just one of his many scandals, by the way.
Rep. Keith Ellison—a man with ties to the Nation of Islam—was considered the front-runner for the DNC chairmanship for his support of Bernie Sanders' presidential bid. Not to worry though; he will now serve as the Deputy Chair of the DNC under Perez.
Conspiracy theorists used to wonder if Obama would find a way to stay in office past two terms. While that didn't happen literally, Obama appears to have virtually created a way to do so with even more power than if he had stayed in office as he continues his fundamental transformation of America.
Originally posted at The Strident Conservative

David Leach is the owner of The Strident Conservative, your source for opinion that's politically-incorrect and always "right." His articles can also be found on RedState.com.
His daily radio commentary is nationally syndicated with Salem Radio Network and can be heard on stations across America.