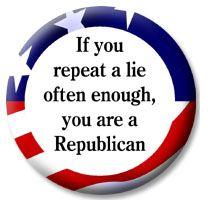 When the members of the new GOP-controlled 115th Congress were sworn-in last month, it included many of the old faces from the old GOP-controlled 114th Congress, along with their old feckless leadership.
One area where this is most evident is the GOP broken promise to repeal Obamacare. In the days immediately following the election last year, signs were already popping up everywhere that the GOP promise to repeal it "root and branch" was a lie. Despite denials to the contrary, these old faces have been busy laying the groundwork for a creative way to "repeal and replace" the failing healthcare law without actually doing so.
As we learned in an interview with Conservative Review Senior Editor Daniel Horowitz on "The Mark Levin Show" last month, the "replace and repeal" strategy is really a fake repeal:
"The heart and soul of what Obamacare is, and those are the regulatory mandates, the insurance coverage mandates … they will remain in place.

"They're not really repealing the heart and soul of Obamacare."
In a piece I wrote earlier this week, the "fake repeal" reality of these con-artist Republicans was confirmed when were caught on a hidden mic expressing their reluctance to repeal Obamacare and defund Planned Parenthood during their annual retreat.
With their equivocation openly exposed, you would think that these lying Republican liars telling lies would take this opportunity to earn back the trust of American voters by keeping their promises. You'd think that, but you'd be wrong. Instead of changing strategy to match their promises, GOP leadership has elected to change branding to match their lies. Instead of "replace and repeal," they will now simply "repair" Obamacare. Or as I like to call it, "retreat and repair."
"Our goal is to repair the damage caused by Obamacare where we find damage," Senate Health, Education, Labor and Pensions Chairman Lamar Alexander (R-TN) said at the start of a hearing he held Wednesday on the individual insurance market.
Senator Susan Collins (R-ME) echoed Alexander: "Regardless of who was elected president, we were going to have to do major repairs on the Affordable Care Act."
As we learned from Trump himself, Obamacare and Trumpcare are essentially the same. So, it's quite likely that the new "retreat and repair" plan will be signed when it reaches his desk.
Originally posted at The Strident Conservative

David Leach is the owner of The Strident Conservative, your source for opinion that's politically-incorrect and always "right." His articles can also be found on RedState.com.
His daily radio commentary is nationally syndicated with Salem Radio Network and can be heard on stations across America.