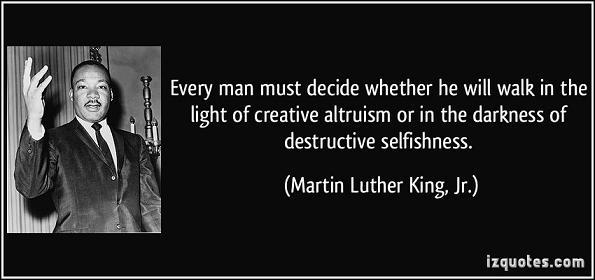 Today is Martin Luther King, Jr. Day, a federal holiday signed into law by Ronald Reagan on November 2, 1983. In remarks made during the signing ceremony in the Rose Garden, Reagan acknowledged Dr. King's contributions as he peacefully, but forcefully, fought to bring racial healing to America using the power of unconditional love, forgiveness, and non-violence; and he concluded with these words:
"Now our nation has decided to honor Dr. Martin Luther King, Jr., by setting aside a day each year to remember him and the just cause he stood for. We've made historic strides since Rosa Parks refused to go to the back of the bus. As a democratic people, we can take pride in the knowledge that we Americans recognized a grave injustice and took action to correct it. And we should remember that in far too many countries, people like Dr. King never have the opportunity to speak out at all.

"But traces of bigotry still mar America. So, each year on Martin Luther King Day, let us not only recall Dr. King, but rededicate ourselves to the Commandments he believed in and sought to live every day: Thou shall love thy God with all thy heart, and thou shall love thy neighbor as thyself. And I just have to believe that all of us—if all of us, young and old, Republicans and Democrats, do all we can to live up to those Commandments, then we will see the day when Dr. King's dream comes true, and in his words, "All of God's children will be able to sing with new meaning, '… land where my fathers died, land of the pilgrim's pride, from every mountainside, let freedom ring.'"
While Reagan was correct about the strides we have made, eight years of race-baiting politics under Obama has done a great deal of damage to the cause. And even Obama's last day in office just a few days away, recent events involving Donald Trump and Rep. John Lewis serve as a reminder that we still have a long way to go before we see that day.
Following comments by civil rights icon John Lewis–he stated that he wouldn't be attending the presidential inauguration because he doesn't consider Trump to be "a legitimate president" due to Russian interference with the election–the president-elect embarked on one of his infamous Twitter rants. On Friday night, Trump accused Lewis of doing nothing but "talk, talk, talk," telling him to focus on fixing things in Atlanta instead of "falsely complaining about the election results."
Congressman John Lewis should spend more time on fixing and helping his district, which is in horrible shape and falling apart (not to……

— Donald J. Trump (@realDonaldTrump) January 14, 2017
mention crime infested) rather than falsely complaining about the election results. All talk, talk, talk – no action or results. Sad!

— Donald J. Trump (@realDonaldTrump) January 14, 2017
Politics aside, it should be remembered that Lewis had his skull busted on Bloody Sunday in Selma, AL. and is considered a hero of the civil rights movement. Although, as we all know, Trump is known for belittling American heroes whenever he's feeling insecure about himself. Right John McCain?
Of course, the reason the New York Liberal said anything at all was because Trump's clinical narcissism simply won't allow anyone to criticize him without launching a cowardly and childish attack in retaliation. After this one however, Trump was called to the mat by a few Conservative leaders.
John Lewis and his "talk" have changed the world.https://t.co/qeUloAkeTx https://t.co/aH2vDLjKk9

— Ben Sasse (@BenSasse) January 14, 2017
Dude, just stop. https://t.co/UCIqhqGnXu

— Justin Amash (@justinamash) January 15, 2017
It's telling, I'm afraid, that Donald Trump treats Vladimir Putin with more respect than he does John Lewis.

— Bill Kristol (@BillKristol) January 14, 2017
While you avoided the draft, John Lewis risked his life for equality in America. You'll never even dream of such selfless patriotism, Donald https://t.co/gTWwfzkwkH

— Evan McMullin (@EvanMcMullin) January 14, 2017
Personally, I don't think Dr. King would be too happy with the behavior of either Trump or Lewis. In my opinion, they both fail the "love thy neighbor as thyself" test mentioned by Reagan.
As a man who marched with Dr. King, and who had his skull busted on Bloody Sunday in Selma, AL., Lewis should know better than to fall for such divisiveness. And as the man who won the presidency with the lowest level of support from the black community in at least 40 years, Trump should be mature enough to avoid lashing out at a civil rights leader on the weekend we celebrate the legacy of Dr. Martin Luther King, Jr.
However, if Rep. Lewis would reconsider his decision not to attend the inauguration, and Donald Trump would start acting like the President instead of a reject from a reality TV show, perhaps the spirit of Martin Luther King, Jr. can be restored in the nation's capital . . . beginning this week.
Originally posted at The Strident Conservative

David Leach is the owner of The Strident Conservative, your source for opinion that's politically-incorrect and always "right." His articles can also be found on RedState.com.
His daily radio commentary is nationally syndicated with Salem Radio Network and can be heard on stations across America.