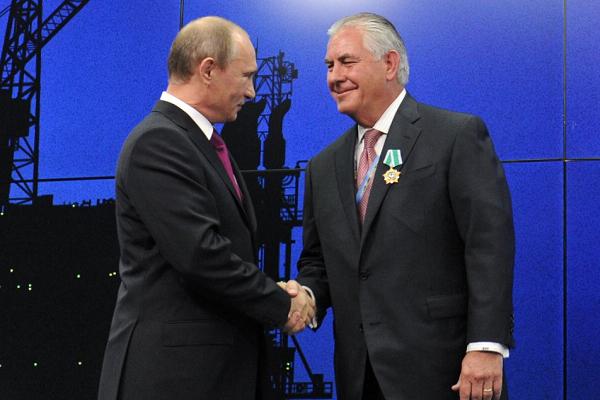 This week we'll witness the beginning of the confirmation hearings on Trump's cabinet picks. And while it's likely that the Democrats will engage in some political shenanigans as they try to gum-up the works for the president-elect, there are a few nominees that should be rejected after they face intense questioning by members of both parties. One such nominee is Trump's pick to be the next Secretary of State, Rex Tillerson.
When Trump nominated the former CEO of ExxonMobil, there were two primary areas of concern for Conservatives. First there was Tillerson's uncomfortably close connection with Vladimir Putin. For years the oil executive had worked hand-in-hand with the Communist leader as they developed Russia's oil industry, earning Tillerson the highest honor Putin can bestow on a foreign citizen, the Order of Friendship. With Trump's personal Russian entanglements, Tillerson's appointment has all the makings of a political quid pro quo designed to protect Trump's obvious conflicts of interest.
The second area of concern is with Tillerson's deep ties with several Gulf states, including: Saudi Arabia, Yemen, and Qatar. He even involved ExxonMobil in a regional dispute involving Iraq and the Kurds. Noticeably absent in his Middle East activities is the Nation of Israel. And while Trump's current position appears to support Israel, he held the opposite view last year during the campaign for GOP nominee.
Trump's vacillating aside, many of his supporters are quick to discount these concerns over Tillerson, even stating that his potpourri of experiences could help when it comes to the Middle East. Despite the likelihood of being called "stupid" or a "fool," I disagree with those who unconditionally defend Tillerson, particularly when you consider that former Secretary of State under George H. W. Bush, James Baker, was one of the folks who nominated Tillerson for the job.
Besides the fact that Baker is a partner at a law firm representing Exxon and Rosneft, the Russian-owned oil company that partnered with Tillerson and Exxon, a weekend appearance on CNN by Baker indicates that Conservatives have a right to be concerned when it comes to Tillerson's impact on Israel and the Middle East. Telling host Fareed Zakaria that he hopes Trump "will immerse himself" in the region, Baker expressed his clear anti-Israel bias when commenting on the topic of peace with the Palestinians.
"But you can't think you can succeed at that if you are in effect so biased one way or the other. You cannot be Israel's lawyer and expect to solve the Palestinian/Israeli dispute… You have to be seen to be at least a semi-honest broker."
Considering Trump's track record during his campaign, maybe "semi-honest" wasn't the best choice of words, but that's just me.
Unfortunately, this wasn't the worst part of the interview. Saying that Obama's actions were "very consistent with long-standing U.S. policy," Baker stated his support of the current president for getting the UN resolution condemning Israel for legally building settlements in the West Bank passed. The censure also prevents Jews from praying at the Western Wall, and from living in the Jewish Quarter of Jerusalem where they have lived for thousands of years.
"If you go back and look at a lot of the resolutions — in fact there was one in 1980 specifically on settlements in which the United States sustained, didn't veto. This was not a break with long-standing tradition.

"The reason why I think settlements are a bad idea is they tend to create facts on the ground which make it hard to negotiate for that piece of land. If you create facts on the ground there is nothing really left to discuss about trading land for peace.

"If we're talking about abandoning the two-state solution and leaving it, that's going to create serious problems for the United States, not just with respect to the Arab-Israeli dispute, but it's going to create serious problems for us more generally in the region as a whole."
Could those "serious problems" have anything to do with business interests held by the client he recommended to be Secretary of State? I'll let you decide, but in my opinion, Baker wouldn't have been so staunchly pro-Tillerson unless they held similar views on these issues.
And that's why the Senate should reject Tillerson's nomination.
Originally posted at The Strident Conservative

David Leach is the owner of The Strident Conservative, your source for opinion that's politically-incorrect and always "right." His articles can also be found on RedState.com.
His daily radio commentary is nationally syndicated with Salem Radio Network and can be heard on stations across America.